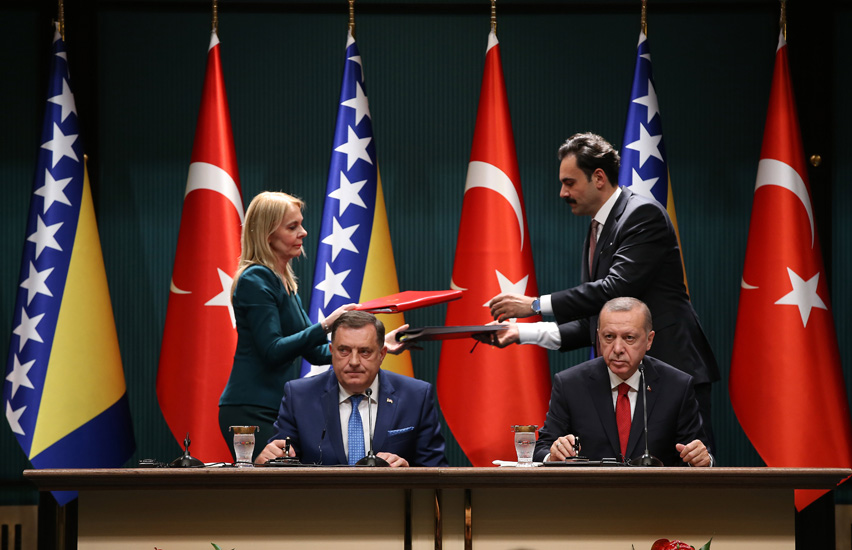 "Merhaba asker!" was something no one believed would hear coming out of the lips of BiH Presidency Chairman, Milorad Dodik.
But it seems miracles are possible and Dodik said this in the front of an honorary platoon at the beginning of his official visit to Ankara, Turkey. Turkish president, Recep Tayyip Erdogan, invited BiH Presidency members to visit Turkey to sign several agreements and memorandums. Dodik and Bosniak member of the BiH Presidency, Šefik Džaferović, travelled to Ankara, while the third member, Željko Komšić (Croat), had to stay behind due to his recent health problems. Doctors advised him to not go with the others, so he sent his representative in his stead.
Erdogan and Dodik signed in Ankara on Thursday the revised Free Trade Agreement between Turkey and BiH and the Memorandum of Understanding on the Belgrade-Sarajevo motorway construction, which stipulates the process dynamization in the construction of a part of the road through BiH.
"We have also talked about energy, tourism, agriculture and animal husbandry. We continue to encourage private companies to operate and invest in BiH. We are working on strengthening the ties in the field of culture and human relations", Erdogan stated at the press conference in Ankara after a meeting with Dodik.
He stressed that Turkey will provide every support to the Turkish Stream gas pipeline to go through BiH.
Dodik emphasized that he understood the president of Turkey's support for BiH's accession to NATO, which is understandable as Turkey is a NATO member.
"I would like to voice my satisfaction because the Turkish president was ready to listen and appreciate our different approaches to the NATO path that we have in BiH". Dodik told the press after a meeting with the Turkish president.
Dodik said that Thursday's meeting was a unique opportunity to talk about cooperation between Turkey and BiH, which is excellent now.
"We voiced our gratitude for being given an opportunity to be here and to witness the high level of understanding in various segments of our cooperation. The talks were comprehensive and fair. BiH and Turkey do not have open issues on a bilateral level, but have the highest number of bilateral agreements, protocols, such as those in the energy sector", Dodik said.
These statements seem like usual statements after the important meeting. So what is the matter with Dodik and "Merhaba asker"?
Just a few months ago, according to Dodik's statements, Erdogan was the man who works against Serbs in Bosnia and Herzegovina, who is trying to establish the new "Ottoman Empire", who considers BiH a Turkish state etc.
Every Turkish official statement about BiH was considered as the "involvement of Turkey in internal state relations".
"Turkey is a significant counterwork factor precisely because it selectively behaves and uses its huge economic and political potential to be exclusively on one side", Dodik had said at the time.
There are however, a few reasons that might have contributed to Dodik's change of view. It is possible that he finally realised that his intention to act as representative of just the Serb nation in BiH Presidency is not a good stance for the relations with those who can be helpful in the future. Erdogan is the key figure for negotiations about the Turkish Stream branch in BiH, and one branch in Republika Srpska.
The second reason can be the fact that he wanted to keep his position of the Chairman and to show to everybody that his term on that position is firmly in his hands. That is why he did not leave Džaferović to say "Merhaba Asker" on the welcoming ceremony.
The third and most possible reason is that he realised that Erdogan has very strong ties with Russian president Vladimir Putin, whom Dodik consider as the patron of Serbs in BiH and him personally. From that position, it would be very bad not to build good relations with Erdogan.
In the future, as it seems now, BiH will see more changes in Dodik's behaviour. One day, he might even become a true representative of all BiH citizens./ibna