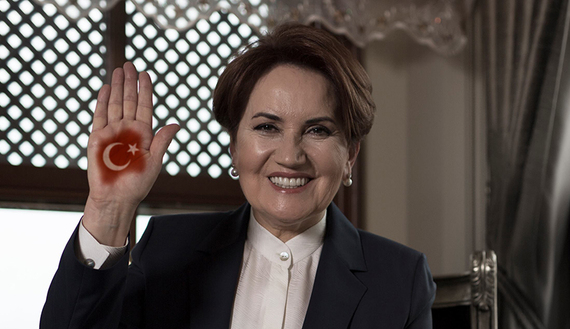 She is also known as Turkey's "Iron Lady" and has already proved that she relishes the challenge of power and would not easily relinquish centre-stage politics. Meral Aksener is no newbie. And she is back to challenge the present head of Turkey, Recep Tayyip Erdogan who, if he allows "a free election to take place", as The economist wrote, she might be his main rival.
The fact that she shook-up her land's sterile political spectrum by launching her own party at the end of October, 2017, proves her capability of becoming, at some point, a very powerful opposition. However, she has not yet declared her candidacy for the 2019 elections. Nevertheless, she has said that "My friends (colleagues in her new party)  really want me to run (…) I might have no other choice." With the slogan "Turkey will be good" and a logo depicting a bright sun,  İyi (Good) Party aims to stay and bring forth change. Many political experts and analysts in in Turkey and abroad even say she could help bring back democracy to  the country's political scene and its society.
Aksener entered Turkish politics in 1995 with the centre right True Path Party of Tansu Ciller and served as the country's first female Interior minister in Turkey. Two years later, in 1997, "her pro-democracy stance against the Turkish military propelled her as a widely respected political figure across party lines", reported Euronews.com.
A decade later, in 2007, Aksener joined the Nationalist Movement Party (MHP) but when its MHP leader Devlet Bahçeli slowly moved to the AKP direction till they finally joined forces, she stood opposite Bahçeli along with many more MHP affiliates.
The 61-year old is a woman who manages to combine totally different values and represents them with utter respect but without capitulating to calls and norms she disagrees with. She appears rebellious and when she wants something, even if she does not achieve it, she fights tooth and nail  for it. Apparently, her overall behaviour shows no fear for male politicians, although being a powerful woman in Turkey is not the easiest of goals for a lady to score.
"She is devout and prays regularly, but does not wear the headscarf. She is a captivating performer, peppering her speeches with wisecracks and jokes. As the name of her party suggests, she is determined to be all things to all people. (To hone her everywoman image, she flew economy class to her first rally.)" wrote The Economist and this is why she looks able to attract "a wide range of voters".
Regarding the President of Turkey, Aksener has never referred to him with blunt expressions or strong words, like "the Sultan" or the "dictator" whereas the secular Turkish opposition does.