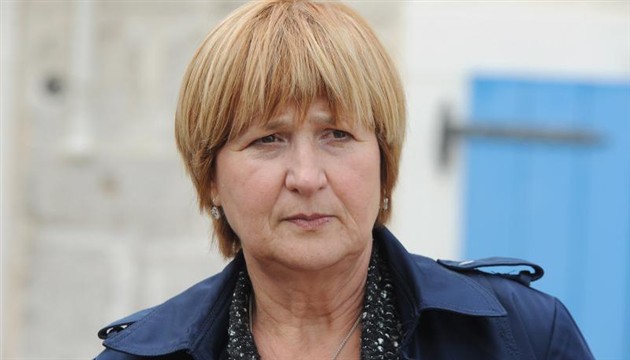 By Marija Avramovic – Zagreb
President of the Croatian Party of Rights dr. Ante Starcevic (HSP AS) and MEP Ruza Tomasic submitted an irrevocable resignation as its president, and withdrew from membership of the party.
As she pointed out in her public statement, she left the party because it had turned into something that she never wanted.
"In connection with the change of the electoral legislation, party leaders hadn't recognized the need to stand in defence of national rather than narrow party interests",  Tomasic wrote.
"I can't stay at the forehead of a party which puts its interests above the interests of the Croatian people, because I believe that purpose of the existence of a true patriotic party can only be achieved through the defence of national interests. Political parties are a means, not an end. The ultimate goal of all of us involved in the political life of Croatia should be the welfare of our people in their country", Tomasic said.
She stressed that this time, more than ever, she was determined to protect the interests of the Croatian people and the state in the European Parliament at all costs and that she will continue to pursue this plan with the greatest possible intensity.
Speculations over Tomasic's departure from the party began upon her recent conflict with the Secretary of the party Pero Coric, whom she accused of being controlled by the Croatian democratic union (HDZ) since Coric, like HDZ, opposed the idea of ​​the initiative 'On behalf of the family' to introduce preferential voting, while Tomasic supported it.
Coric is surprised and disappointed by her resignation and claims that the direct cause of disagreements are not about preferential voting, but her intention to propagate a wider influence of the EP's political group, European Conservatives and Reformists (ECR), beside the Croatian coalition partners in the region.
Secretary of HSP AS doesn't understand why Tomasic has changed her opinion on preferential voting, which she now supports, because as he said: "at the session of the Main board in Zadar on September 13, we unanimously decided that we were against preferential voting".
He guesses that the real reason why she left the party is that the "ECR group pressured her".
The strongest component in ECR group are the members of the British Conservative Party, party of the  British Prime Minister David Cameron, among others.
This group is currently the third largest in the EP, with 71 members from 15 states.
At the session of the Main board in Zadar, when HSP AS supported the HDZ's candidate for president of the state Kolinda Grabar Kitarovic, the now former president of the party had announced her candidacy for deputy prime minister after the next parliamentary elections, on which, she was assured, the coalition headed by HDZ would win.