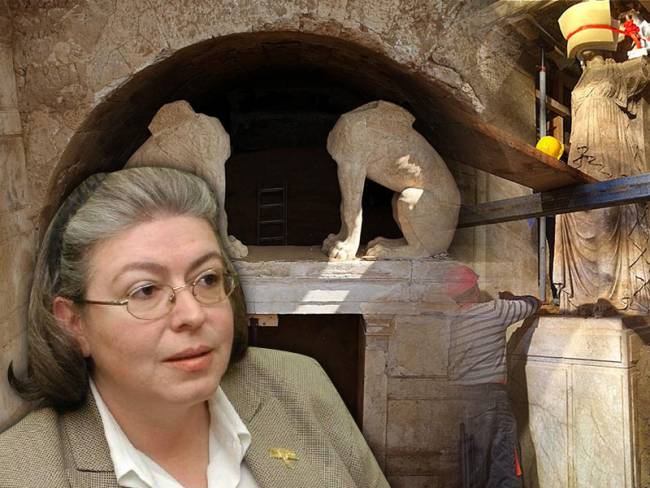 By Spiros Sideris – Nicosia
As it appears, there is no doorframe in the third chamber-fourth area of the tomb of Amphipolis. The working hypothesis based on geological and speleological research that its speculated the existence was not confirmed by the excavation process. As it became known by the Ministry of Culture as part of the planned briefing of the October 28 "the false impression was given because at that point a marble upright has been removed".
According to the first impression of the interdisciplinary team from the up to now course of the excavation – such as finding the head of the Sphinx in the eastern third chamber; It leads to the conclusion that both the plowing of the areas with sand and the construction of the sealing walls were probably done at a later time from the construction of the monument. However, it is noted that this hypothesis requires systematic study.
"The tomb has clearly been tempered with, up to the point we are now. Since the beginning of the information we have said many times -and repeated – we have very strong evidence of grave robbers action", stated during the press conference at the archaeological Museum of Amphipolis, the general secretary of the Ministry of Culture, Lina Mendoni.
She categorically denied rumors of finding gold objects in the chambers, and estimated that the third chamber, where excavations are taking place at the moment, is the last chamber of the burial monument.
"With what we have seen so far, we cannot speak of other chamber", she said.
Regarding the occupant of the tomb, the lady Mendoni restated that it is not yet known the occupants.
"We cannot say anything about who is buried. Beyond that, the expectations have already been verified. This monument, as disclosed, is extremely important, not only for the region and Macedonia, but for the history and archeology and it confirms it will take a long time to study. The scientific community might discuss this monument for 10-15 years, and its importance in the science of history and archeology".
Finally, the Ministry of Culture, released for the first time material from the revelation of the mosaic, the funerary monument of Amphipolis. It is essentially stock footage, consistently shots with natural sounds, removing many hours of intermediate excavation process. The worksite form of the excavation does not allow the editing of the material in studio conditions. The material is presented, as recorded by the digital documentation of the excavation.