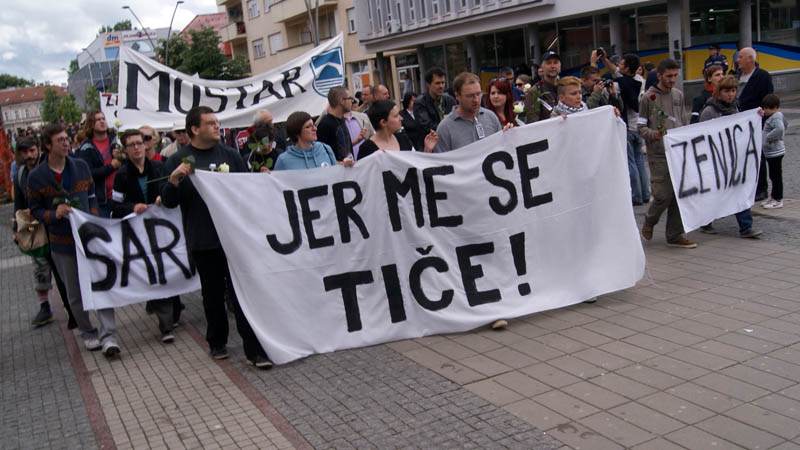 By Medina Malagić – Sarajevo
Last Friday, members of the initiative called 'Jer me se tiče' (Because I care) erected memorial plaques in three towns in B&H- Foča, Konjic and Bugojno. The plaques were set up at the same time and young people from all over the country took part in an action whose goal is to commemorate the suffering of the victims of war crimes, and in this way they hoped to garner greater international attention.
However, yesterday, only two days after the memorial plaques were set up, local government officials had police officers remove the three memorials.
The initiative came out with a public statement after news of the removal of the memorial plaques came out: ''Citizens of Foča, Konjic and Bugojno did not remove these plaques. Government officials removed them, and cited 'licenses and regulations' as the reasons. On the reasons for setting up the memorial plaques and the victims to which they are dedicated, not one of them (government officials) had anything to say about this''.
Thus, members of the initiative sought to make it clear that it is the local governments in B&H that are primarily responsible for continuing to promote nationalist policies and a culture of denial.
''This has shown how nationalist political structures are terrified of the prospect of providing space to commemorate victims who do not belong to their ethno-national group and where they are not able to score political points'', and that ''nationalist political structures and their supporters can remove every next monument that we set up, but they cannot and will not stop us''.
In post-war B&H, public space throughout the country has been used as a kind of marker of identification through the use of potent, primordial symbols. It is emotional propaganda that continues to be appropriated by ruling elites in this country, where they feign preservation of their own national group and justify the use of inundating public space with national symbols as a way to pay homage to their national group. These endeavors are a façade, since they conceal the real reasons why this trend in B&H continues. B&H is set-up according to a very delicate balance of ethnic structures, and any attempts to cause a wave in this system is perceived as a threat, but it is a threat that solely endangers those who have profited most from this type of system-the nationalist political elites.