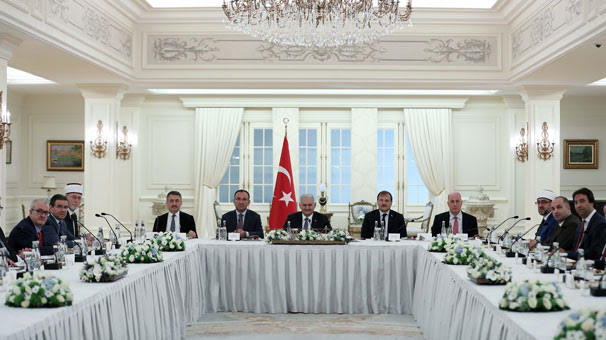 Yildirim sees visit as a bridge of friendship
The "muftis" of Komotini and Xanthi, in Thrace, Ibrahim Serif and Ahmet Mete respectively, visited Ankara where they were welcomed by the Turkish premier Binali Yildirim and Foreign Affairs minister, Mevlut Cavusoglu.
In Greece, the status of Serif and Mete is not recognised as they are other appointed muftis.
The two men were accompanied by many members of the Muslim minority, among them the head of Frienship, Equality and Peace (FEP) party, Μustafa Ali Cavus.
Turkish Foreign Affairs minister published photos of the meeting on his personal Twitter account and wrote that, "We welcomed the Counselling Committee of the Turkish minority and reiterated that we offer them our strong support."
The meeting took place at the Foreign Affairs ministry in Ankara.
Later on the members of the Muslim community visited PM Yildirim.
Anadolu press agency (AA) reported that, "The Prime minister welcomed the members of the Muslim community of Western Thrace." During the meeting Deputy PMs Hakan Cavusoglu and Bekir Bozdag were present with the former originally coming from Western Thrace.
As far as the meeting with the Turkish premier is concerned, it took place behind closed doors and according to the official announcement made by the premier, "The Muslim community is a part of Greece and a bridge of friendship and as such it is important to be entitled to the European freedom and rights."…/IBNA