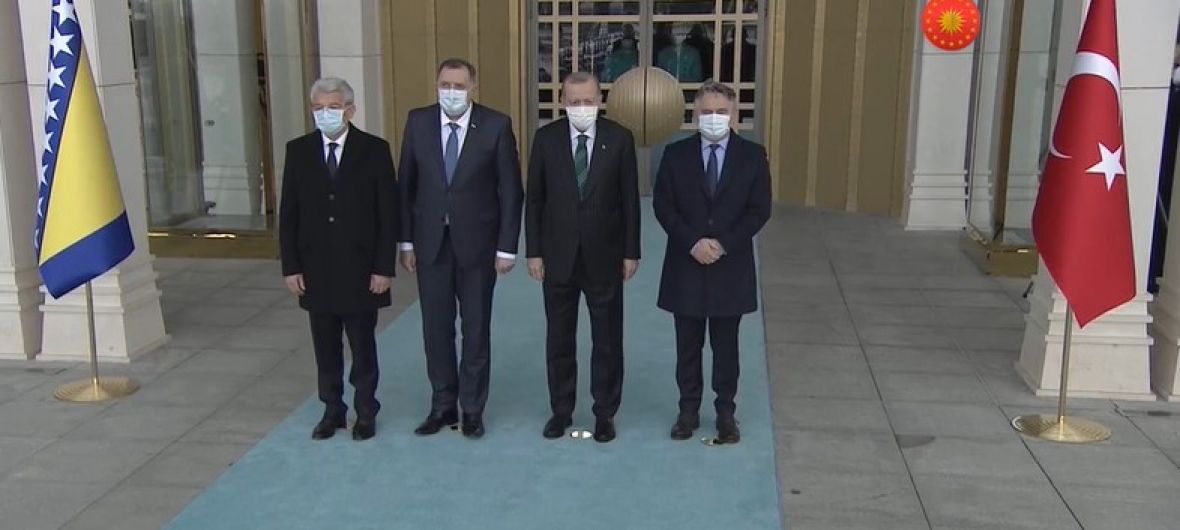 BiH Presidency Members Milorad Dodik, Željko Komšić and Šefik Džaferović are paying an official visit to the Republic of Turkey today at the invitation of Turkish President Recep Tayyip Erdoğan, where several important interstate agreements will be signed.
Today, President Erdogan first welcomed Milorad Dodik, the presiding member of the BiH Presidency, at the Presidential Palace in Ankara. During the welcoming ceremony with military honours, Dodik greeted once again the honorary platoon from "Merhaba Askeri".
Sefik Dzaferovic and Zeljko Komsic joined the ceremony afterwards and were received by the Turkish President. It remains unknown why the members of the Presidency did not arrive at the same time.
After the welcoming ceremony, a series of meetings were held; firstly, between the members of the BiH Presidency and the Turkish President, and afterwards between the two countries' delegations.
During the Members' official visit, an Agreement is scheduled to be signed between the BiH Council of Ministers and the Turkish Government on cooperation in infrastructure and construction projects, as well as an Agreement between the BiH Council of Ministers and the Turkish Government on mutual recognition and exchange of driver's licenses.
The agreements will be signed by the Minister of Communications and Transport of BiH, Vojin Mitrović, who is a member of the BiH delegation on an official visit to Turkey.
A Memorandum of Understanding is also expected to be signed between the BiH Agency for the Promotion of Foreign Investments and the Investment Office of the Presidency of the Republic of Turkey on cooperation in investment promotion. Agency director Milica Marković will be signing the memorandum.
During their official visit, Dodik, Komšić and Džaferović will meet with the President of the Grand National Assembly of the Republic of Turkey, Mustafa Şentop. /ibna