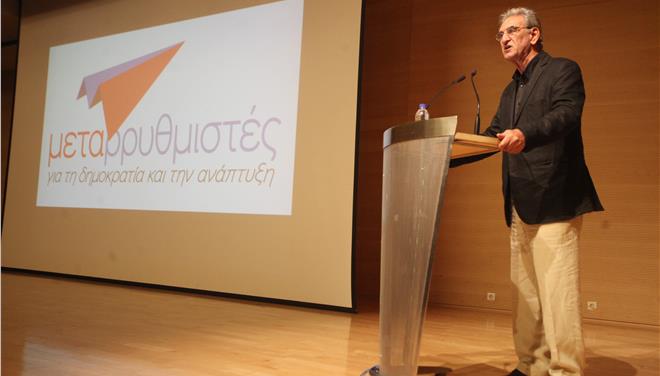 By Spiros Sideris – Athens
The political initiative for the reconstruction of the wider area of the Center-Left, titled "Reformers for Democracy and Development" announced the former MP of DIMAR and current independent MP, Spyros Lykoudis at an event held at the Benaki Museum of Piraeus Street.
Present in the event were Maria Repoussi and Grigoris Psarianos, while in a letter, the former minister of Administrative Reform Antonis Manitakis states he supports Lykoudis' initiative.
In his speech. Lykoudis said the country's European course is non-negotiable and, inter alia, stressed that "the first need is to highlight and support the need for a political consultation and consent of the parties of the democratic arch".
The second need is the great meeting of all the democratic forces of the historic democratic arena. From the democratic and liberal center, to the socialists, and the radical left", thus determining the range of political forces, his initiative concerns.
He acknowledged the difficulties and hesitations, but asked from those who will respond to his call, honesty and courage.
As a central challenge Mr. Lykoudis highlighted the radical, bold reforms across the spectrum of institutions, of the political system, economic and social activity, without preconditions, in order, as he said, to change the production model of the country.
Present at the event were former members of the PG of DIMAR, who participated in the reform trend within the party and had left the party following Lykoudis, before the recent party conference, but also several companions from the time of "Synaspismos". Also present was the independent MP Vasilis Economou and members of the wider Center-left, friends of the "River", and  officials of "Elia".