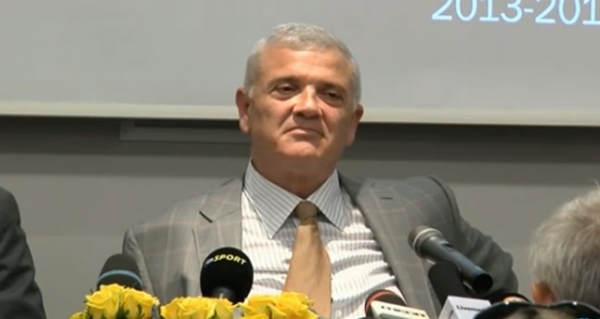 By Lefteris Yallouros – Athens
AEK Athens, one of Greece's most successful football clubs that recently declared bankruptcy and was relegated to the third division, has announced a plan that will see the club build a brand new state of the art stadium and seek promotion to the upper tier of Greek football immediately.
Prominent businessman Dimitris Melissanidis held a press conference Wednesday morning in which he stated his intention to lead the club out of the third division and make sure it comes up with the funds to build its new home.
AEK were relegated from the Super League for the first time in their 89-year history in the season that ended in May. The club was in serious financial trouble and reported to owe 170 million euros to the state alone, which led to its liquidation.
AEK Athens – founded by Greek refugees from Istanbul and minor Asia in 1924 – used to play at the "Nikos Goumas" Stadium in the area of Nea Filadelfia before it was demolished in 2003 and the club has not managed to come up with the funds for a new stadium since.
Oil magnate Dimitris Melissanidis announced he will take control of the club in a rebuilding project after it dropped two divisions to the country's amateur league due to its huge debts.
Melissanidis has already secured the financial help of wealthy AEK fans such as shipowners Polis Hadjioannou and Petros Pappas to build the new stadium. The Governor of Attica has also pledged to invest EUR 20 million of the regional authority's funds in AEK's new ground which will see many jobs being created in a poor area of the city. AEK's large fan-base will also assist, as a portion of season ticket sales will be put aside for the construction.
The media estimates the construction of the stadium will cost around EUR 60 million.
Melissanidis, 61, served as AEK president from 1992-93 and 1994-95 in what was a highly successful period for the club.
Over the past 35 years, Melissanidis became one of the most successful fuel traders in the history of Greece, as chairman of Aegean Marine Petroleum, the second largest oil company in Greece. His family controls a stake in the Emma Delta consortium which recently agreed a deal for a 33 percent share in Greek betting company OPAP.