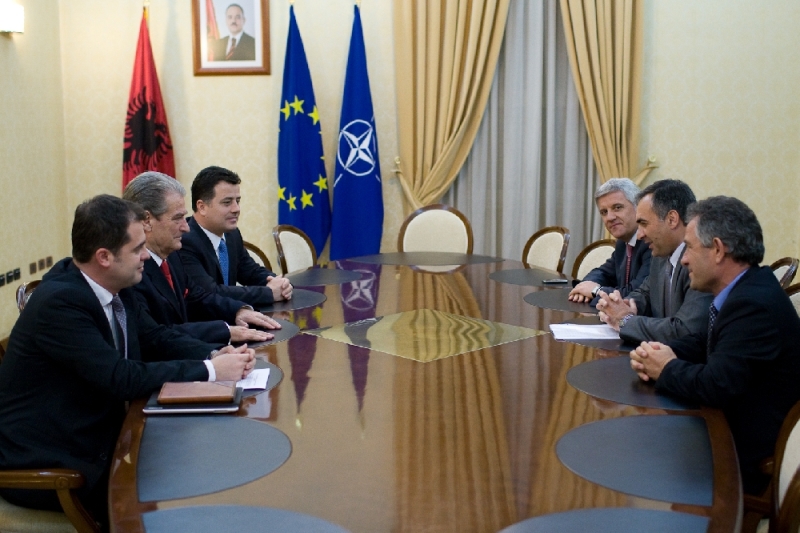 Tirana, April 25, 2013
By Ariola Imeri
The leader of the Democratic Party, Sali Berisha held a meeting on Thursday with the chairman of the Ethnic Greek Minority Party for the Future (MEGA), Kristo Kiço and leaders of this political force. The meeting was focused on the cooperation between the two political forces.
After the meeting, both chairmen spoke for the media. Prime Minister Berisha said that with the chairman of MEGA party, he talked about an electoral long term alliance.
"I'm very impressed about the fact that during this meeting, the heads of MEGA party didn't present any demands for posts, but demands that relate to the liberties, freedoms, life, investments, infrastructure, security and all the problems that the Greek minority encounters in Albania. On the other hand, they also demanded to have the opportunity to play their role in a democratic country and system, according to the laws of the country and the international conventions", said Berisha.
On his part, Mr. Kiço said that "the sincere endeavors of MEGA to unite the Greek minority in a sustainable, natural and successful alliance for the Greek minority, was not reflected on the Unity for Human Rights Party. Our program consists of the demands of the Greek minority, which in turn act as the axis of the political strategy of MEGA. MEGA will have its representatives in parliament after the June 23 elections", said Mr. Kiço. /ibna/