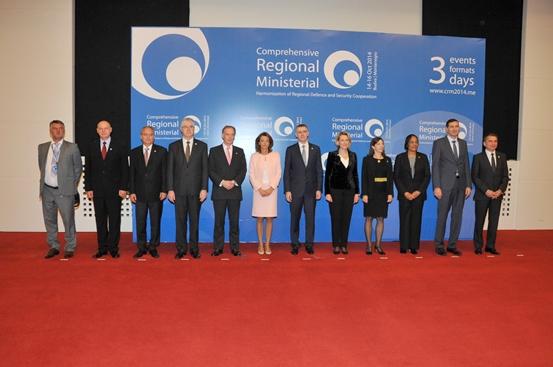 By Adnan Prekic – Podgorica
Montenegro hosted a regional meeting of the ministers of Defense. The aim of the meeting was the harmonisation of regional defence and security cooperation in Western Balkans and South-Eastern Europe within regional initiatives of the members of the U.S. – Adriatic Charter (A5) and the South- Eastern Europe Defence Ministerial (SEDM). The participants of the meeting agreed that it is necessary to make an effort to spend defence budgets efficiently and to carefully define priorities concerning regional projects and regional training centres.
Integration process represents the best framework for the implementation of reforms and raising the quality of life, but it cannot be achieved without active regional cooperation, promotion of good relations among neighbours and conducting politics within the regional context. The Montenegro Minister of Defence prof Milica Pejanovic Djurisic said that the U.S. – Adriatic Charter (A-5) represents an important forum where member countries promote their cooperation through different projects and initiatives. The Minister, also, pointed out the readiness of Montenegro to provide, together with other countries from the region, help for Afghan security forces in maintaining peace and stability in Afghanistan after the final part of the ISAF mission at the end of 2014.
Deputy Assistant US Secretary of Defence Evelin Farkas said that the U.S. – Adriatic Charter was primarily formed to actuate countries of South-Eastern Europe to promote peace and stability in the region through integration into Euro-Atlantic community. Also, she said that all the countries have made a significant progress on their way toward EU and NATO. Deputy Assistant NATO Secretary General for Defence Policy and Planning Jonathan Parish encouraged Montenegro to continue with the reforms and said that it will be invited to join the NATO as soon as it meets the necessary preconditions. "The new security challenges the Allies are facing are the same as for many of our partner nations, so we have to develop close cooperation between our allies and partners", said Parish.
Montenegro is ready to cooperate with the region in the fight against global security challenges, whether it is about Ukraine or the threat posed by Islamic countries, said Minister of Foreign Affairs and European Integration Igor Luksic. Luksic said that Montenegro is fully committed to continuing contribution to the security and stability of Afghanistan through ISAF. "We are also willing to cooperate with the region in relation to other global security challenges, primarily those that affect us all, whether in Ukraine or the threat posed by the Islamic state," Luksic said.
Discussions also revolved around models for improving regional cooperation, in order to establish joint training centres and development of regional capacities for peace keeping operations and crisis management.