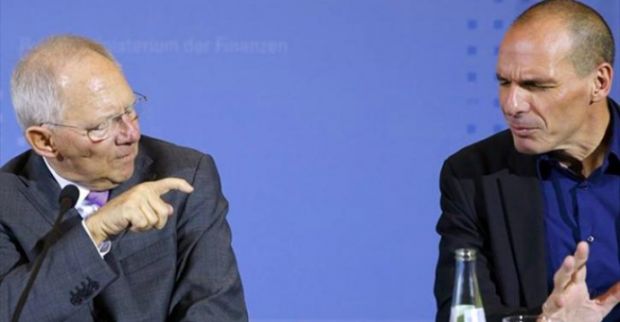 Athens, May 08, 2015/ Independent Balkan News Agency
By Spiros Sideris
O German Finance Minister said he doesn't have high expectations for reaching an agreement with Athens in the negotiations to be held at the meeting of the Eurogroup
Wolfgang Schaeuble revealed that he will have a meeting with Yanis Varoufakis before the opening of the Eurogroup Monday, but he expressing the view that probably there will be no agreement between Greece and its Creditors at the meeting of the Finance Ministers of the Eurozone.
According to Reuters, at a press conference in Berlin, the German finance minister said he has doesn't have high expectations for reaching an agreement with Athens in the negotiations to be held at the meeting of Eurogroup.
"One should not expect some kind of impressive results, it is unlikely", he said, and added that he will meet with Greek Finance Minister Yanis Varoufakis before the opening of the Eurogroup.
Among other things, however, Schaeuble said it would be "wonderful" if Greece received help from Russia, however, he noted that he does not believe that it would be as much as the country needs.
Putin to Tsipras: "We are ready to finance the construction of the gas pipeline"
The readiness of the Russian side to finance Greek companies that will participate in the project of the construction of the "Greek pipeline", confirmed the Russian President Vladimir Putin during a telephone conversation Thursday with Prime Minister Alexis Tsipras, according to an announcement from Kremlin.
"Particular attention was paid to joint infrastructure projects in energy cooperation issues, including the gas transmission system construction in Greece as part of the new Russian natural gas transportation project via Turkey and other European countries", said the press release of the press service of Kremlin, which stresses that "in this context is confirmed the readiness of the Russian side to consider the issue of providing funding to Greek public and private enterprises, which will work on this task".
The Communication also highlights that "the network of bilateral relations in the framework of the implementation of the agreements reached at the Alexis Tsipras's visit to Russia on April 7-9, 2015 was examined" and that further bilateral contacts were discussed at various levels.
Russian news agencies that reported the news of the telephone conversation, also transmit information about the pipeline project, which is expected to transport about 63 billion cubic meters of Russian natural gas to the border between Greece and Turkey, with about 43 of them available to sell to European and international markets.
RIA-Novosti notes that the greek section of the pipeline could be built by a "Russian-European consortium" and for the implementation of the project "EUR 2 billion will be needed".