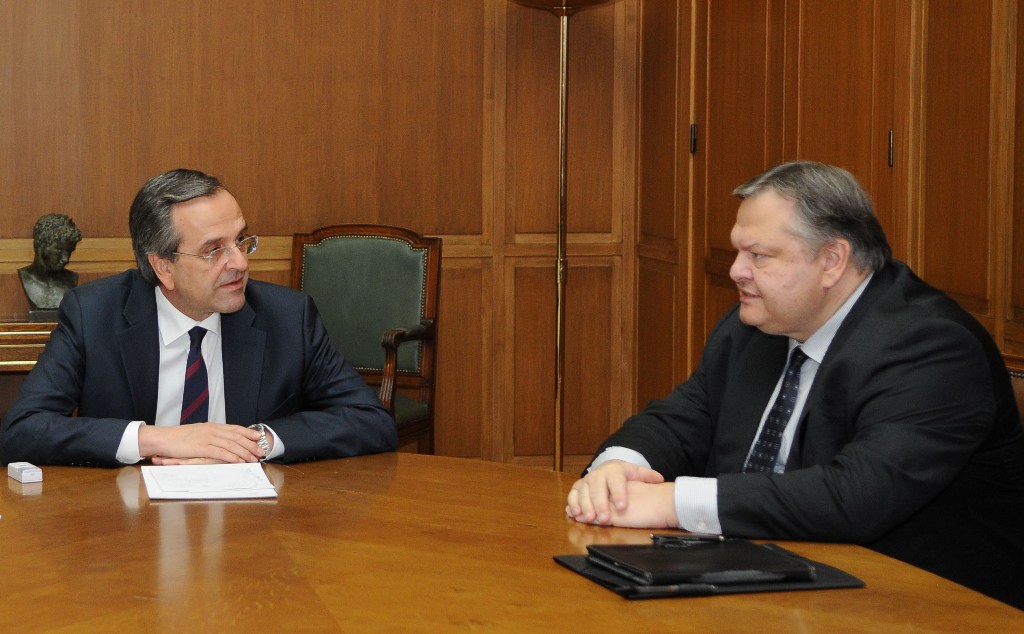 By Spiros Sideris – Athens
Prime Minister Antonis Samaras will meet this morning with the Deputy Prime Minister, Evangelos Venizelos, and the main subject of discussion, according to press reports, will be the disagreements between ministers and the remaining issues with the troika.
In a source of intergovernmental friction is developing the open disagreement between Kyriacos Mitsotakis and PASOK on the issue of the evaluation and layoffs in the public sector after the indirect criticism to Evangelos Venizelos in regard to ​​the negotiations he made with the troika as Finance Minister in 2011.
"When in the past we attempted to reverse commitments that we have undertaken we got EETIDE as a gift" he said, among others, the Minister for Administrative Reform, speaking to Sky, leaving spikes for the Deputy Prime Minister.
There was strong reaction from PASOK, which using harsh language, stresses in a statement that while the previous government was achieving the "haircut" of the greek debt and a new loan, Mitsotakis' party was acting tough, planning Zappeia and non-existent equivalents.
"Kyriakos Mitsotakis, the late negotiator, would do well not to wag the finger at PASOK and learn that a good politician is not the politician who leads his options in deadlocks and undermines the necessary measure of assessment, but one who recognizes his mistakes and revises them to the public interest", is stated in the announcement issued by PASOK.
"At the moment something much more important comes first. The commitments made ​​by the country towards its partners, who finance it at the moment, are commitments of the government. The government is bipartisan; these commitments must be followed uniformly", claimed the ND spokeswoman, Anna Asimakopoulou speaking on the TV show "Proino MEGA".
The issue of the evaluation in the public sector has sparked fierce turbulence in the government as PASOK calls to change the mandatory negative rating of 15%, while the opposition parties are calling for a change in the overall evaluation in the public sector.