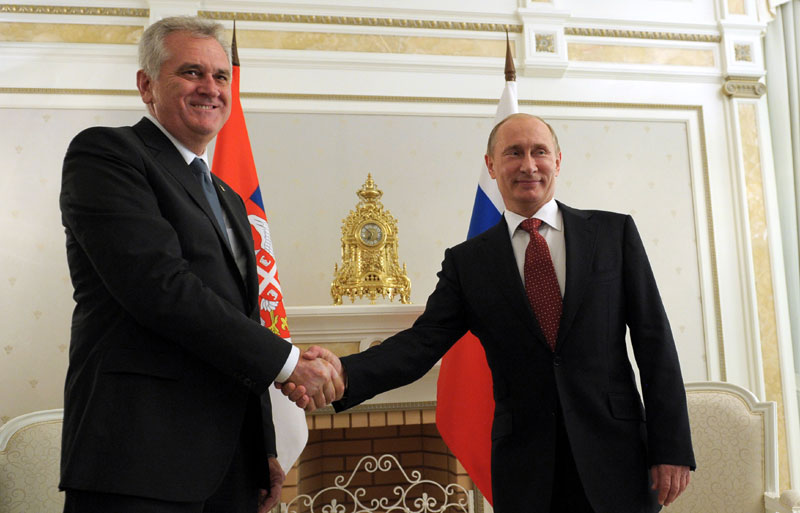 By Miloš Mitrović – Belgrade
"The relations between Serbia and Russia are improving, but there are problems from Serbian side that should be resolved", Serbian president Tomislav Nikolić said at the Moscow meeting with his Russian counterpart Vladimir Putin on Wednesday. However, Putin responded that the problems should be resolved in the friendly manner "rather than being dramatized".
Nikolić and Putin did not specified the problems, but Nikolić explained "sometimes they are caused by shiftless and sometimes because the members of the government (Serbian) are not mindful enough while making the decisions", Serbian National Television has reported.
He also emphasized there were problems with Serbian state-owned gas company "Srbijagas" debts. "Srbijagas" is engaged in the implementation of energy agreement between Serbia and Russia. By this agreement, Serbian oil company NIS has been sold to Russian "Gazprom"; it stipulated that two countries would jointly construct the Serbian part of gas pipeline "Southern Stream" and gas depot in Banatski Dvor, Serbia, as well.
From January to September 2013 NIS has injected 690 million Euros in Serbian budget, Vladimir Putin stressed. "This sum comprises 10 percents of overall Serbian budget, reason well enough opponents of the agreement to keep themselves silent", Nikolić added.
At the same time, Serbian president rendered that "government (Serbian) has made conclusions which should be modified because they do not correspond with the deal with Russian partners".
Nevertheless, Putin and Nikolić stressed positive trend with regard to trade between two countries and significant amount of Russian investments in Serbia as well.
Putin emphasized that Kremlin does not expect any special conditions for Russian firms in Serbia. He recalled that Russia was among the main Serbian trade partners. After the trade decline in 2012, "this year's dynamics showed positive tendencies", Russian president added.
With regard to Serbian Investment Forum which was held in Moscow during Nikolić`s visit, Putin said he was aware it has offered projects worth several billion USD.  Nikolić said he was doing his best to improve cooperation between Serbian and Russian businessmen.
Serbian president assessed Investment Forum was better compared to previous, due to the fact that Serbian delegation "was good prepared and offered entire catalogue of projects".
In recent years, Russia has invested 1.2 billion USD in Serbia and "Southern Stream" project would inject 1.2 billion Euros in Serbian economy, Putin emphasized. His Serbian counterpart added that Russian conditions were "more than acceptable" and that Serbia would fulfill its obligations as well.