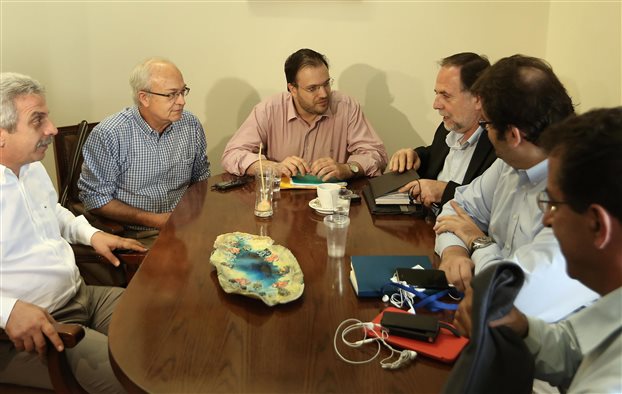 By Spiros Sideris – Athens
In good spirit, without however overcoming the "thorns" that exist between PASOK and DIMAR, was held the first meeting of the delegations of the two parties for the center-left and progressive governance. One point of dispute was the relationship with SYRIZA and the other was the congress of the Democratic Party. The representatives of PASOK argued that the center-left should have an autonomous role and not define itself as the space between ND and SYRIZA, that SYRIZA rejects altogether the dialogue with the center-left and need to clear the line and the neoliberalism and left populism.
"We are not talking with SYRIZA," was the short message on the part of PASOK. The representatives of DIMAR, given the letter sent by their leader Kouvelis to Tsipras for a progressive power block, insisted that SYRIZA should not be demonized. "We do not want to demonize SYRIZA, but do not want to legalize populism nor give the impression that we stand on two boats", answered their interlocutors.
Despite the different approaches the disagreements in the discussion did not get out of hand at any time and even explanations were given. The representatives of PASOK stated that the consensus on the President of the Republic is not a prerequisite for the continuation of the dialogue between the two parties, however, they added that they could not accept petty games with the highest statute. The representatives of DIMAR agreed with this perception.
PASOK invited DIMAR to participate in the Congress of the Democratic Party, but DIMAR replied that its own conference came first, on which they would discuss this issue. Until then however, they can discuss either at the level of party delegations – they agreed for a new meeting to take place soon as there is agreement on most of the 12 programmatic positions included by Kouvelis in his letters – either the forum for dialogue that will build by St. Constantine.
The meeting, held at the offices of DIMAR in Parliament, was attended by Theocharopoulos, secretary of the Central Committee,  Anagnostakis, secretary of the Parliamentary Group and the member of the Coordination of the Progressive Cooperation, Manikas, from DIMAR, while PASOK was represented by Rigas, Secretary of the Parliamentary Group, Pierrakakis, member of the Political Council and Karidis, Secretary of Communication.
The chairman of DIMAR, Fotis Kouvelis, speaking at a joint meeting of the Executive Committee and Parliamentary Group pointed out, inter alia, the need to accelerate the procedures for creating a network of dialogue between the forces of the center-left, democratic socialism and the political ecology in the framework of which specific policy initiatives will be taken.