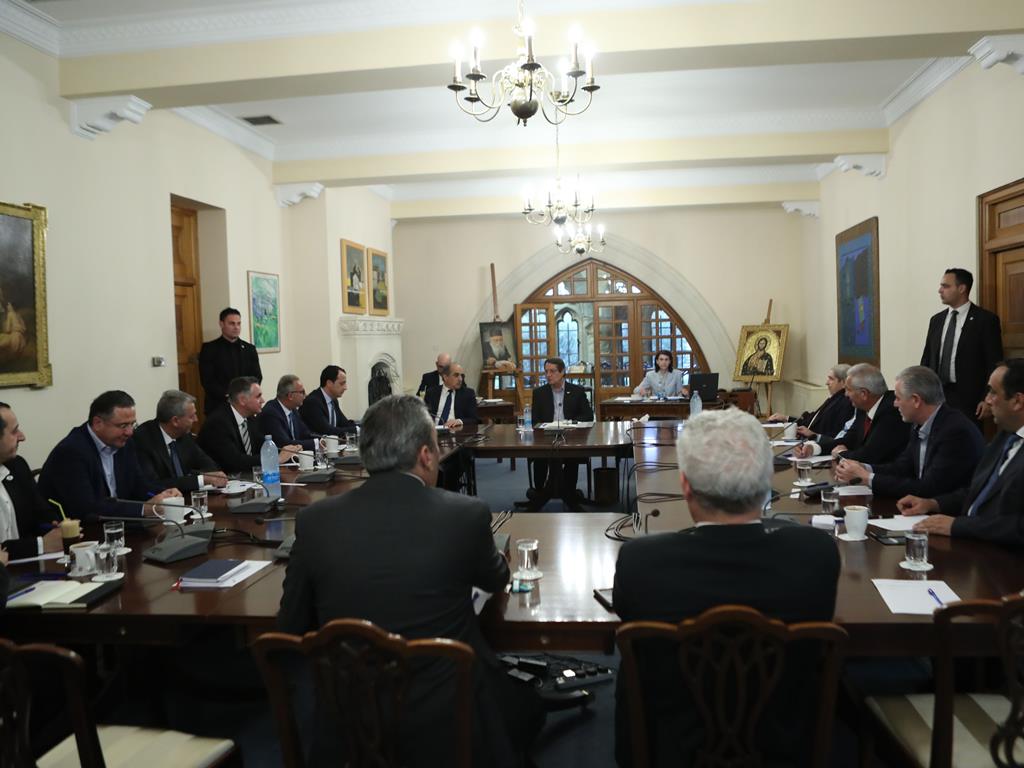 The President of the Republic of Cyprus, Nicos Anastasiades, chaired a meeting of the Political Chiefs Council in the Presidential Palace on Thursday evening, with a view to the dinner with the leader of the Turkish Cypriot community on April 16.
At the end of the session, Government Spokesman, Prodromos Prodromos, told reporters that "a meeting of the President with the political leaders was held this evening. The meeting also included the former Presidents of the Republic, the President of the House, the Minister of Foreign Affairs and the Negotiator.
The President informed the political leaders about the dinner scheduled for next Monday but also about the developments that are taking place at the moment. The political leaders expressed views, suggestions.
It was a useful exchange of views, in the sense that the President of the Republic, following the meeting with Mr Akinji on Monday, wanted to have the views, the suggestions of all political leaders in mind, and we believe that the President will now proceed at dinner with the objective of restarting negotiations".
In a journalist's observation that although dinner does not have an agenda, however, Mr Akinji has set his own agenda, asking to get clarifications from the President of the Republic on various issues, the spokesman said "dinner is without an agenda, because it is not part of the negotiations. It is intended to start negotiations – at least that is our own reading. The dinner has no agenda and when there is no agenda, any issues can be put forward freely.
The President of the Republic will also raise some issues in the discussion he will have with Mr Akinci and the main issue will be the need to start the negotiations where we left off, as was the direction given by the UN Secretary-General".
When asked if the situation in the region was also discussed, the Spokesman replied in the affirmative, adding that "in any case. It would be strange not to have been discussed. The developments, what is happening in Syria, the fact that the Republic of Cyprus is not involved in the planning that is being done at this time, were all discussed. Of course, as we all witness, there are continuous developments. For our part, we wish to prevent further conflict. It remains to be seen what is happening. However, there was an exchange of views and there was also an occasional briefing by the Foreign Minister".
Asked if these developments in the region could affect any prospects in the Cyprus issue, the spokesman said that "surely, everything is affecting and Turkey is at the moment part of the crisis in Syria. But the focus is on the discussion that will take place with the Turkish Cypriot leader".
Asked if any country has asked the Republic of Cyprus for any support, the spokesman said that "we have made our position known. The Republic of Cyprus is not part of the plans made by various countries, even if they are friendly countries, sometimes for our Member States, our partners in the EU. The Republic of Cyprus is not part of these plans, nor was it asked (to be) nor was there any involvement"./IBNA
Photo: pio.gov.cy