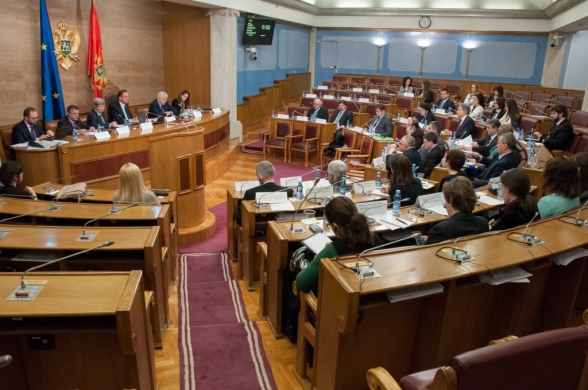 The political criteria are being fulfilled, the economy is a challenge
By Adnan Prekic – Podgorica
Lawmakers of Montenegro and the European Parliament, gathered around in the joint committee of the EU-Montenegro Stabilisation and Association Council, and after two days of debate passed a resolution and 11 recommendations. They welcomed the progress made by Montenegro and pointed out many things that are unfinished. European lawmakers have sharply criticized the economic situation in Montenegro. They claim that it is unsustainable since the current account deficit is financed by external loans.
The general assessment of the European and Montenegrin parliamentarians have confirmed the progress made by Montenegro, but they also identifed areas that will require additional efforts in the future. Thus, the assessment report states the "regret that the court procedures for the 'snapshot' case haven't been concluded", refering to the investigation of the alleged vote buying during elections. In addition to this, there are also recommendations that invite public authorities to re-examine all the activities of the suspects in the case "Balkan Warrior".  The parliamentarians welcomed the cooperation of the Ministry of Justice of Montenegro and Serbia during the arrest of Darko Saric.
Other concerns that have been expressed refer to the increased verbal and physical intimidation of journalists and asks for adequate investigation, while at the same time welcomes the arrest of suspects in the attack on the property of the daily news "Vijesti". The declaration condemns the assault on opposition MPs and calls on the authorities to prosecute the case.
Edurado Kukan, chairman of the European Parliament Delegation for Relations with Montenegro, Albania, Bosnia and Herzegovina, Serbia and Kosovo congratulated Montenegro, for being in the first place in the EU expansion process. When you look at the last four years, we can clearly see the progress that has been made. The negotiation process is very difficult and Montenegro knows how many other things must be done along the way, in order to become a full member of the EU, said Kukan.
The european parliamentarians have had a lot of suggestions when the talk turned to economic issues. Lajos András Bokros, European Parliament lawmaker, said that the growth potential of Montenegro is rather weak due to low investment, not exactly the best business environment and fragile public finances. The European parliamentarian stated that the potential for growth is low, because the state does not have adequate manpower in many sectors and that many factors that influence economic policy are unpredictable. This growth model is unsustainable, in my opinion, because there is a huge deficit, which leads to a rapid accumulation of both domestic and foreign debt, said Bokros.
He told the the government not to be deceived by the low central budget deficit. What is most important is the overall budget deficit including the deficit of the pension and social funds, local governments and the deficit of public companies. The current account deficit is financed by external loans and therefore foreign debt increases making it unsustainable, warned Bokros.