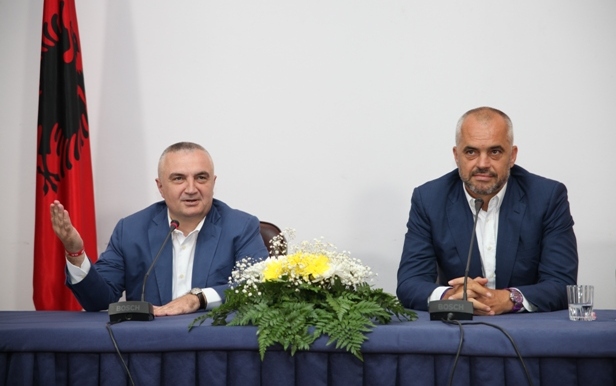 Tirana, June 28, 2013
A meeting was held today between the leader of the Socialist Party, Edi Rama and the leader of the Socialist Movement for Integration, Ilir Meta.
The meeting lasted around 2 hours and 30 minutes in order to decide about the transition plan until the opening of the new legislature.
During this meeting it was agreed that in order to successfully meet the obligations that emanate from the June 23 vote in favor of the Alliance of a European Albania, the leader of the SP, Edi Rama will be Prime Minister and the leader of the SMI, Ilir Meta will be speaker of parliament.
The two parties confirmed their public engagement to divide the mandate of the MP from the executive duty of the minister.
The meeting decided for the creation of a joint work group presided by the SP Secretary for Program, Ilir Beqja and the member of the leading board of SMI, Edmond Haxhinasto to urgently start the preparation of a detailed work plan for the first 300 days which will be presented to the public in the month of September.  This work group will establish contacts with interest groups and with Albanian and foreign experts.
Following the meeting that the two leaders had yesterday with the representatives of the Azerbaijani government, they concluded that it's necessary to create a Task Force which will fully support TAP project. This Task Force will become operative in order to follow up the preparative phase of the project and to organize the process of the qualification of human resources in the country which will be involved in the phase of the realization of the project.
The two leaders also expressed their concern about the latest information that indicated that the acting government is not simply acting as caretaker of the country's affairs during these remaining two months, but it continues to do things which do not serve the best interest of the country. Therefore, the two leaders of the coalition decided to urge Prime Minister Berisha and his government to show wisdom and responsibility in order not to take steps against the ethics of a caretaking government. Rama and Meta called for new procurements to be stopped and for no decisions for new concessions on public assets to be taken. They appealed for the administration not to be involved in illegal actions of the last minute with the state funds.
The two leaders underlined the need to offer the country a governing team which will bring a new model of behavior and action in the governing process and a new model of parliamentary life in the spirit of collaboration.
They also agreed to continue their negotiations for the structures and composition of the new government even with the other allies of the coalition. /ibna/