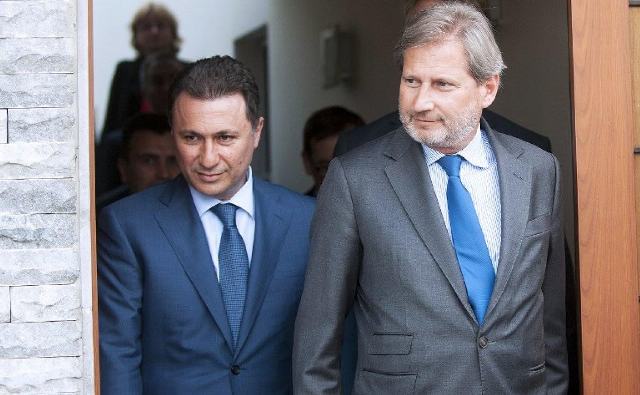 Skopje, 10 June 2015/Independent Balkan News Agency
By Naser Pajaziti
The decisive round of talks between the leader of the four main political parties in FYROM will take place today with the brokerage of the Euro commissioner for enlargement, Johannes Hahn, with the aim of overcoming the political crisis.
The four leaders of the parties, Nikola Gruevski of VMRO-DPMNE, Zoran Zaev of SDSM, Ali Ahmeti of BDI and Menduh Thaci of PDSH, have arrived in Brussels yesterday along with their teams.
This meeting follows the one on June 2 held in Skopje with the brokerage of Johannes Hahn, where the sides agreed on holding early general elections in April 2016, but they didn't discuss which government would organize them.
The creation of an interim government will be the main point of the talks. Macedonian opposition led by Zaev said that their demand is for an interim government without Gruevski, but party in power, VMRO-DPMNE says that the will of the people must be respected and that Gruevski is a legitimate prime minister who has the trust of voters and that he must lead a government which will also include the opposition.
These are two contradictory positions between the two biggest political forces. The presence of the two parties BDI and PDSH is not considered as favorable in these negotiations, but they are expected to put forward their demands for the advancement of the position of Albanians, especially through the  implementation of the Ohrid Agreement.
Malinka Ristevska-Jordanova from the Institute for European Policies has stressed that these talks may lead to an agreement.
"There may be an agreement today in Brussels, but the political process will be long, because today's meeting will only serve to put off the fire. They will be long and complex negotiations little likely to have a suitable result. The EU is making efforts to have progress, but I think that the situation is difficult, because both Zaev and Gruevski are determined in their stance", Ristevska-Jordanova declared.
Political analyst Nijazi Muhamedi told IBNA that the Brussels' meeting will be difficult, but it's a difficult test for the European Union.
"I believe that there will be a serious effort by both Macedonian political sides in order to maintain their position. Zaev wants Gruevski to leave power, but this is not easy. Gruevski has managed to maintain his position so far. He's open for the investigation of the wiretapping scandal and to meet the other demands of the opposition.  But it's difficult for him to leave his post. This will depend on EU pressure. In case  the meeting fails, this will help Gruevski, who will make it more difficult for the opposition to overthrow him", Muhamedi declared.
Tens of NGOs in Skopje have signed a petition through which they demand the EU to enable a concrete agreement in order to overcome the crisis, through the creation of an interim government without current PM Nikola Gruevski and current ministers of his cabinet.
"We would like to recall that the EU and USA share a great responsibility in the application of democracy and rule of law in Macedonia. Therefore, the continuation of this situation would only help this dictatorship regime in Macedonia", declared for IBNA, the representative of the Helsinki Committee for Human Rights, Uranija Pirovska, who is the initiator of this civil incentive. /ibna/