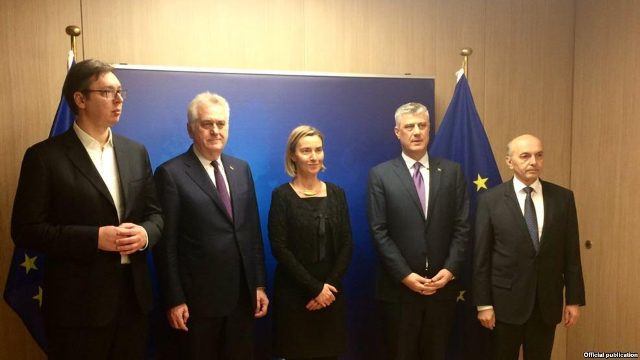 Delegations from Kosovo and Serbia have met on Wednesday in Brussels for the second time within 8 days, but without yielding any results.
After the meeting, both delegations left the office of the head of EU foreign policy, Federica Mogherini without making any comments.
Mrs. Mogherini issued a statement saying that she is "overwhelmed by the constructive commitment of both sides. This commitment and political will shall help to reduce tension and work together in this spirit", says the statement which underlines the importance of the process of talks for Serbia and Kosovo, the region and the European Union.
The bilateral meeting that Mrs. Mogherini had with Serbia's delegation was much longer and there was not a lot of time remaining for the meeting between both delegations.
Prior to the start of the meeting, president of Serbia, Tomislav Nikolic said that Belgrade is ready to talk on all issues, but it will not "accept to talk about the recognition of Kosovo's independence".
"It is clear that we have opposite stances in relation to Kosovo's status: they say that Kosovo is independent, while we think that it's part of Serbia and we will never give up on this", said the Serb president.
Meanwhile, president of Kosovo, Hashim Thaci said that he expects for "tension between Kosovo and Serbia to be reduced even more" and for "the resumed dialogue to lead toward reconciliation and cooperation".
Normalization of relations is a condition for both Kosovo and Serbia to advance in their path of EU integration.
Kosovo has now signed the Stabilization and Association Agreement with the EU, while Serbia has opened the chapters of accession talks.
Recently, Belgrade has expressed its concern that the new US administration could mount pressure for the recognition of the sovereignty of Kosovo prior to EU accession. /balkaneu.com/