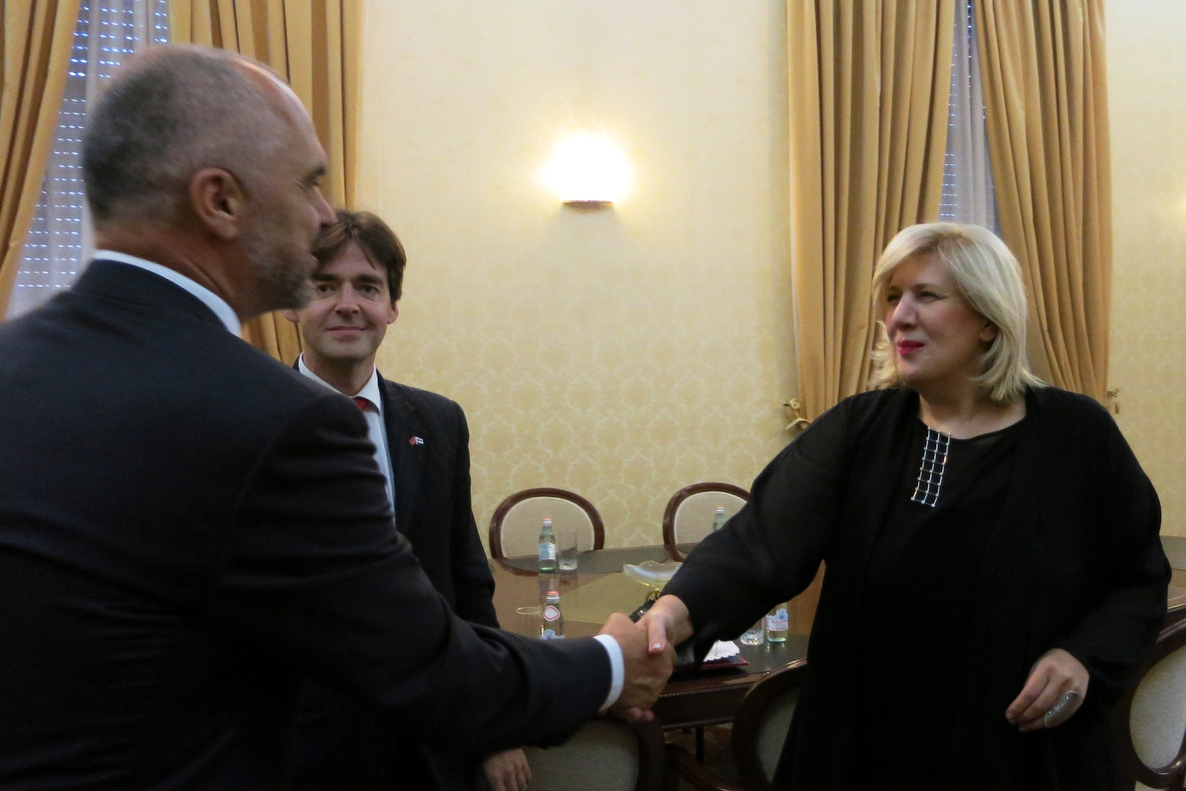 Tirana, September 18, 2013
OSCE Representative on Freedom of the Media Dunja Mijatovic today stressed the need to reform the public broadcaster and ensure independence of the broadcast regulator in Albania. During a two-day official visit, she also urged the new government to fully decriminalize defamation, ensure access to information and move forward on digitalization of the broadcast media.
"The public service broadcaster RTSH needs to be fully reformed to provide citizens with balanced news and information, as well as to educate and entertain them. I am very encouraged that media reform issues are also high on the agenda of the government that is only two days old", – Mijatovic said, following her meeting with Prime Minister Edi Rama.
Urging government authorities to make tangible progress with digitalization she said, "Digitalization of electronic media is important. If it is properly implemented it provides for greater media pluralism. Independent broadcast regulators play a key role in this process".
Mijatovic also emphasized the need to ensure independence of the broadcast regulator AMA from political influence and to ensure that it is adequately funded. Other issues discussed included decriminalization of defamation and ensuring public access to official information.
"Last year Albania took an important step in abolishing prison sentences for defamation from the Penal Code. I urge you to take the next step and fully decriminalize defamation", Mijatovic said.
She also said that the need to ensure that all citizens have full access to official information, as guaranteed by Albanian legislation, is vital: "Access to information allows the journalists to perform their duty as public watchdogs and to ensure that all authorities are accountable and working for the benefit of the people."
Mijatovic also offered OSCE support to the authorities in reform of the public broadcaster, digitalization of broadcasting, ensuring independence of the regulator and implementation of the freedom of information legislation.
During her visit two-day visit, the Representative also met Speaker of the Parliament Ilir Meta, Foreign Minister Ditmir Bushati, Innovation and Public Administration Minister Milena Harito, Chair of the Democratic Party Lulzim Basha,  and Ombudsman Igli Totozani, as well as parliamentarians from the governing and opposition parties.
Tomorrow Mijatovic and Foreign Minister Bushati will open in Tirana the 3rd OSCE South East Europe Media Conference. More than 180 journalists, representatives of civil society, government and academics from the region, along with international experts, will discuss the state of the public service broadcasters, regulatory authorities and the digital switchover in South East Europe. /ibna/