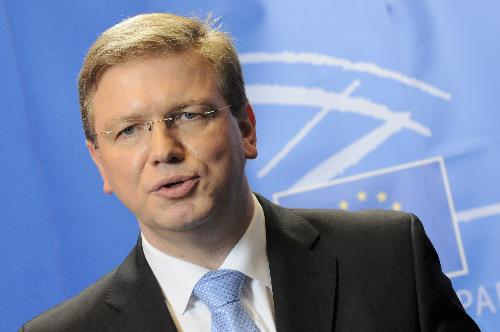 By Medina Malagić – Sarajevo
The high-level meeting in Brussels between leaders of political parties in B&H and the EU Commissioner for Enlargement Stefan Fuele, as well as representatives from the Venice Commission, began today. The aim of the meeting is to discuss the implementation of reforms based on the conditions set forth in the Stablization and Association Agreeement.
B&H leaders arrived to Brussels today without having reached an agreement prior to departure.
The meeting is attended by representatives of the following political parties in B&H: SDA, SDP, SBB, SNSD, HDZ B&H, HDZ 1990, SDS and Chairman of the B&H Council of Ministers Vjekoslav Bevanda (HDZ).
The issue that is at the forefront in B&H and the main topic of discussion in Brussels will be the implementation of the Sejdic-Finci ruling from the European Court of Human Rights. The implementation of this ruling is of crucial importance for B&H on its path to Euro Atlantic integration and EU accession, and the EU expects a final agreement to be reached at this meeting.
In addition, the EU calls for B&H to establish a single coordination mechanism body, which would facilitate communication with Brussels. This would save time, since what would be reported to Brussels would be a uniform voice from B&H. However, B&H has still not set up such a body, even though it was part of the requirements in the Stabliziation and Assocation Agreement back in 2008.
In his opening speech, EU Commissioner for Enlargement Fule issued a harsh warning to B&H politicians that the Council of Europe could sanction B&H if agreements are not reached on implementation of Sejdic-Finci, EU coordination mechanism and a protocal for IPA funds for 2014-2020, which would a detrimental impact on the country.
One of the consequences is the abolition of IPA funds, both future and current ones that have already been approved for this year.
The EU has already issued several warnings to B&H politicians over lack of action on these issues and constant political squabbling and political patronage that dominates the B&H political landscape. Every meeting in Brussels so far has produced no positive results. Thus, the question that remains open-ended is how long this stalemate will continue without any sort of agreement being reached, and how much longer will the patience of the EU last.