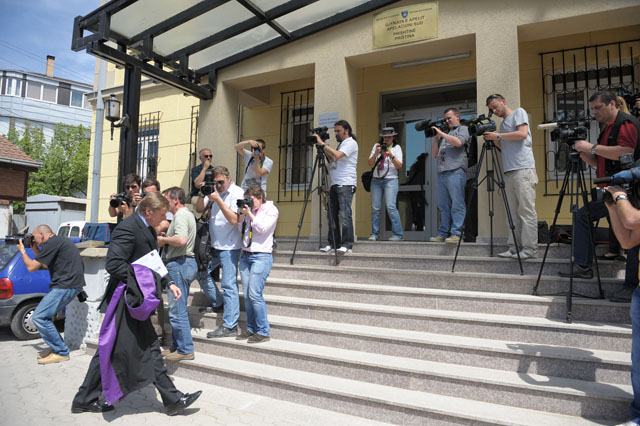 Pristina April 29, 2013-A jury composed of two EULEX judges and a judge from Kosovo in the Court of First Instance in Pristina, has found 5 persons guilty and sentenced them to 20 years of imprisonment and monetary fines.
Lutfi Dervishi was sentenced to 8 years of imprisonment and a fine of 10 thousand Euros. He was declared guilty on the count of organized crime, human trafficking and accomplice in crime. On the other hand, defendant Arban Dervishi was found guilty on the count of human trafficking, organized crime and was sentenced to 7 years and 3 months imprisonment and a fine of 2500 Euros.
Sokol Hajdini and Islam Bytyqi were also found guilty.
"The sole motive for this exploitation of poor and destitute people was the possibility to gain enormous amount of money out of insatiable greed", said chief judge Jonathan Ratel in a press conference.
The ruling to sentence 5 people with 20 years of imprisonment for organized crime, human trafficking and injury came 4 and a half years after the discovery of case in 2008 of a patient at Medicus clinic in Pristina airport, with a fresh wound in the body. That led to the initial suspicions which brought the closure of the clinic that year.
This case has been criminally prosecuted by the prosecutor of EULEX in the Special Prosecution of Kosovo. The Prosecution has declared that it will appeal the case . /ibna/