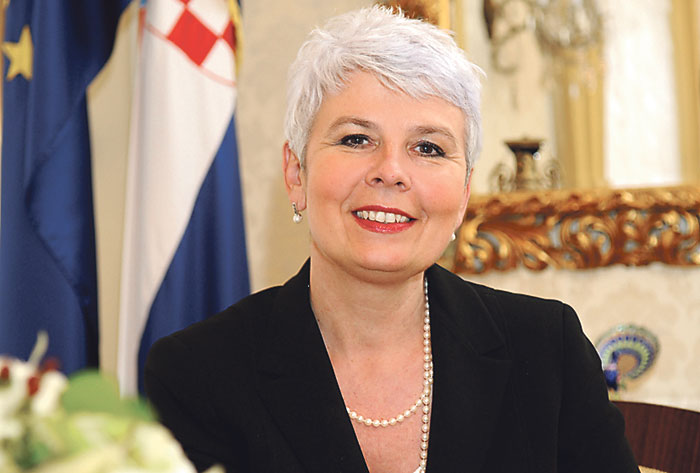 By Natasa Radic – Zagreb
More than a year has passed since she does not lead the Government, but a former Prime Minister Jadranka Kosor is very much present in the media. These days she gave extensive interviews to Vecernji List and Jutarnji list, two major dailies in Croatia.
In an interview with Jutarnji list, Jadranka Kosor, who will  fight at the Constitutional Court to challenge the verdict of her dismissal from her former party, opposition HDZ, announced that she is writing a book on a number of events in the Croatian political life. It seems that the former prime minister can not get over the fact that she was thrown out of the party in which she has been active for over two decades. She was not satisfied with the way the media reported about it. Herself a former radio journalist, Kosor said that, if she were still in the media, the texts of her violent departure from the party would be titled "Process" with the clear connection to Franz Kafka's famous novel. If she were the Prime Minister today – she says she would select herself the members of the Government, not like in 2009, after the withdrawal of former Prime Minister Ivo Sanader, when she inherited ministers and state secretaries. When asked whom she would call in the government, Kosor said:
-There are good and capable politicians, who work, have the experience and results. In each of the Croatian governments there were people who were doing great, but also those who were hiding and did not do anything special. Well I would deeply think about it, especially on human qualities. Converters and cowards have no place in any government – Kosor said.
With the more frequent debate on the so-called "Third way" in the upcoming parliamentary elections, former prime minister has concluded that it is certain that Croatia needs political force which would attract disappointed and angry voters. The project is welcomed.
-We are witnessing a great disappointment in politics, on both sides, left and right. I hear people say they have no one to vote for. Our electorate is, however, very conservative, and it is difficult to change them, but it should be taken into account the growing number of those who do not go to the polls. Abstinence voters give an important message to politics and politicians, so it would be good to find a new force that would make some of the voters who had given up, to believe again – Kosor concluded.