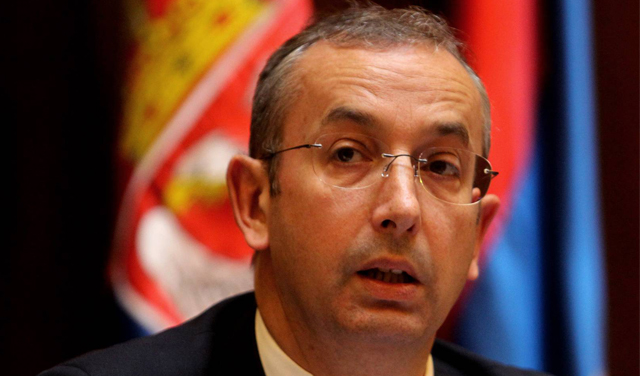 Belgrade, January 13, 2015/ Independent Balkan News Agency
By Milos Mitrovic
"Political involvement in media as well as economic problems such as media concentration and different forms of maltreatment including violence against journalists remain actual issues in Western Balkans societies and Turkey", European Union Delegation in Serbia announced today in an obvious reaction to Prime Minister Aleksandar Vucic's allegations considering its head Michael Davenport (photo).
The announcement appeared shortly before today's meeting between Vucic and Davenport. Last week, Vucic accused Davenport and EU spokeswoman Maja Kocijancic for "giving money" to Balkan Investigative Network (BIRN) journalists "to write against the Government of Serbia". BIRN has previously published an investigation into how state-owned electricity company (EPS) awarded a contract to renovate the Tamnava mine to a consortium that allegedly had no experience of such work.
"The improvement of the situation (considering media scene in Serbia) … requires behaviour change in terms of culture as well as politics, judiciary and media", EU Delegation in Serbia stated today. After their meeting today in Serbian Government, Davenport and Vucic, according to Belgrade media, did not comment on the dispute, stressing instead that "this year will be very important for Serbia's path to the EU".
However, Davenport's office stressed in its statement that "no country may become an EU member if it's not capable to guarantee the freedom of expression as a fundamental human right". "EU expects from the government to provide a favorable environment for the media. Media criticism has decisive importance in creating the real responsibility of the elected governments; on the other hand, governments should readily accept criticisms and check them transparently".
EU Delegation in Serbia also confirmed that BIRN is among the users of EU's grants. However, it stressed that the "positions expressed in any media production financed by the EU do not represent the positions of the EU nor its Delegation (in Serbia) and every article should be followed by a disclaimer".
Maja Kocijancic said last week that Brussels was "very much surprised by the recent claims by Vucic that the EU is paying individual organisations to wage a campaign against the Serbian government".
"We strongly reject these baseless claims. The EU stands by independent and courageous journalism", Kocijancic said.