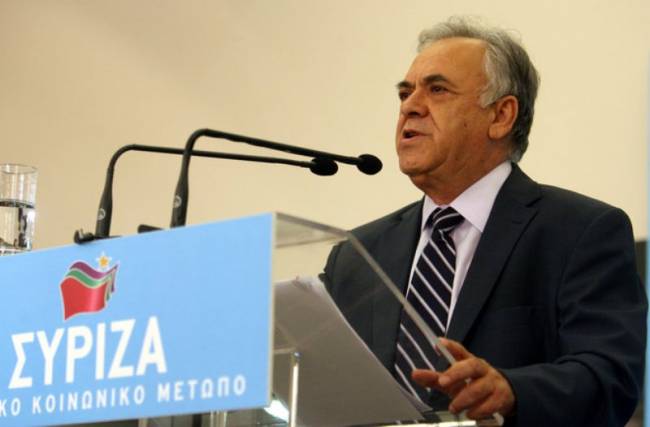 By Spiros Sideris – Athens
"We cannot get out of the crisis with austerity, with internal devaluation, without the settling of the debt arrangement and deletion of large part of it", said John Dragasakis, giving the position of the economic program of SYRIZA and the first six measures to be taken by the Government of the Left for the salvation of the country.
The head of the program committee of the main opposition party stated that the government is trying to negotiate "some issues, in order to create positive impressions", in a desperate attempt to create a positive electoral climate, "something unlikely", as he assessed. "The government will go ahead with new tax measures with  a tax cuts wrapper", he said. He reiterated the position for political subversion at national and European level, with the internationalisation of the dept issue and the creation of a common front from indebted countries.
Dragasakis went on to deconstruct the government rhetoric about tax cuts, stressing that they will be accompanied by new charges, like the unified VAT, which will raise the prices of basic goods, in order to make up the difference in the state revenue.
As the internal devaluation "continues as the dominant policy model, the result leads not to the extension of Greece's foothold on foreign markets, but to the collapse and destruction of the internal market", as he explained. Indeed, according to Dragasakis, internal devaluation "operates as a mechanism of redistribution in favor of the creditors, because it raises the real value of debt, devalues ​​the assets of the country and of course wages, while it creates conditions for a redistribution in favor of those who have money".
The start should be the "ending of the memorandum, which is the source of the problem", said Dragasakis, speaking of the "first six measures to be taken by a government led by "SYRIZA", which will be:
– Development clause, with deletion of a big portion of the debt.
– Package of measures that will contribute to economic recovery (reinstatement of minimum wage, sustainable tax relief with restoration of the tax-free threshold and tax return).
– Special employment program worth €5 billion, in order to create 200,000 to 300,000 new jobs. The money that will be given will be returned to the State through increased contributions to the National Pension Funds.
* Battling tax evasion and avoidance, so that money can come into the state coffers.
* Settling of the "Red loans".
These will be the points on which Alexis Tsipras will analyse, presenting the main positions of SYRIZA in the Thessaloniki International Fair, while the program of the party is in the process being updated.