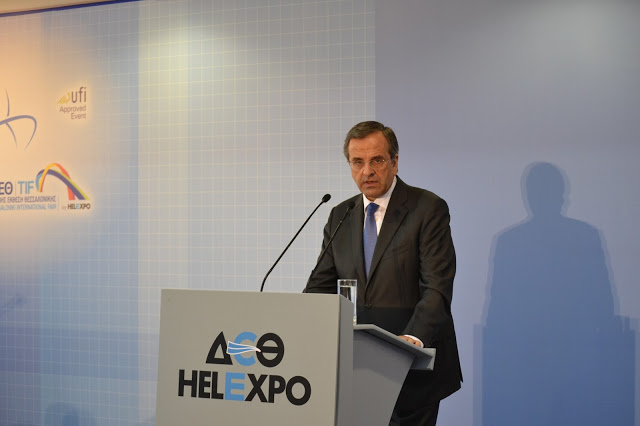 Greece will not adopt any new austerity measures, Prime Minister Antonis Samaras insisted on Saturday morning as he delivered a speech at the opening of the Thessaloniki International Fair (TIF).
"There will be no need for any new measures beyond what has already been agreed," said Samaras. "The country cannot take further talk of measures."
He acknowledged that in the past premiers had used their TIF speeches to announce handouts and made it clear that he would not be doing the same.
In a speech lasting close to 50 minutes, Samaras vehemently defended his government's policy of adhering to the troika-prescribed adjustment program and attacked the opposition over its critical stance.
"Does the opposition think I don't see unemployment, that I can't feel the pain?" he said. "That's what I'm trying to combat."
Samaras said that Greece would have Europe's biggest cyclically-adjusted surplus, of 6 to 8 percent of GDP, at the end of the year and insisted that a primary surplus would lead to its lenders sticking to their agreement to provide the country with some form of debt relief next year.
The prime minister also talked up the economy's prospects, arguing that investments were beginning to trickle in to Greece. He suggested that Greece could reach pre-crisis levels of prosperity before 2020 with the help of the energy and tourism sectors and progress in privatizations.