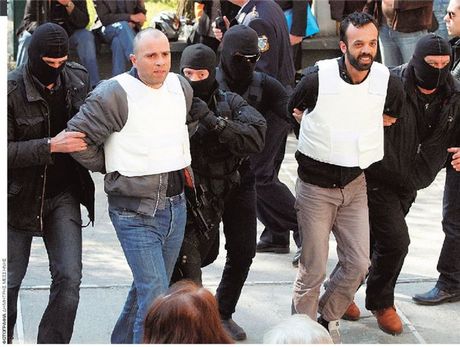 By Lefteris Yallouros – Athens
The arrest of wanted terrorist Nikos Maziotis by the counter-terrorism squad was not an accident, Public Order Minister Vassilis Kikilias said Thursday.
The Greek minister defended the work of the force responding to comments by main opposition SYRIZA party MPs on Thursday that policemen simply stumbled on to Maziotis during another operation in downtown Athens.
The minister said that police has launched an operation code-named "Theseus" in downtown Athens,which involves more than 800 officers. He also expressed appreciation on behalf of the prime minister to the counter terrorism squad officer that was originally tailing the terrorist.
According to Kikilias, Maziotis had been seen using the Kifissia-Piraeus electric railway (ISAP) and traveling to central Athens in the days before his arrest.
Kikilias said more developments are expected in the investigation, noting that a major operation is underway in order to arrest as many as seven people thought to have helped Maziotis hide and perform criminal acts.
The leader of the "Revolutionary Struggle" was assisted in carrying out armed robberies and terrorist attacks.
Members of the anti-terrorist squad raided apartments in Exarchia, Voula, Pangrati and other Athens districts to track down the hideout used by the fugitive convicted terrorist.
However, as police announced Thursday, the gun he used to fire at police during their chase in central Athens on Wednesday had not been used previously.
Police are now searching for his partner Pola Roupa, who also violated the terms of her release from custody and fled with Maziotis 21 months earlier. Both had been imprisoned on remand pending trial and released after the maximum 18-month period for detention on remand had expired.
Maziotis faces charges of serious offenses including attempted murder, illeagal bearing of arms and explosives, robberies, creating a criminal ring and arson. He will face an inquisitor once he recovers from injuries suffered during Wednesday's shootout. Maziotis remained under armed guard at Evangelismos Hospital Thursday after undergoing surgery on the shoulder injury he suffered after clashing with police.