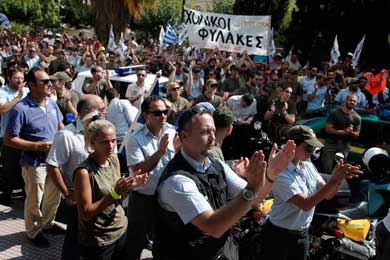 Municipalities closing for three days in protest at multi-bill as ND, PASOK try to appease unhappy MPs
Mayors from around the country decided on Friday to close their municipalities for three days from Monday to protest the multi-bill of reforms drawn up by the government as part of its bailout commitments, which will see thousands of local authority staff moved to other positions or fired.
Mayors aired their views at a meeting of the Central Union of Municipalities of Greece (KEDE) at the Caravel Hotel in Athens as hundreds of local government workers protested outside and riot police stood guard at the entrance. Some of the participants proposed that the mayors should resign en masse to protest the bill's provisions, which include the transfer of municipal police to the country's main force, the dismissal of school janitors and much tighter central government controls over how local authorities spend their money.
This option was rejected, though, and mayors decided to shut down city and town halls from July 15 to 17. MPs are due to vote on the legislation on Wednesday.