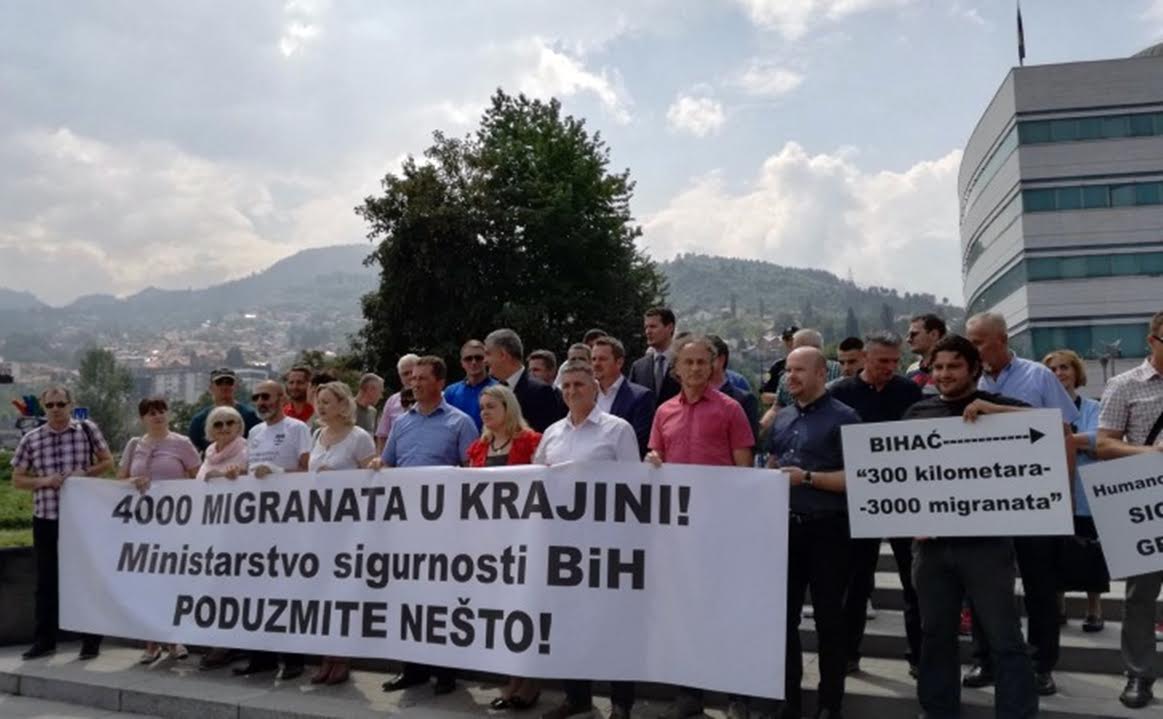 City representatives of Bihać, Cazin, Bužim, Ključ and Bosanski Petrovac, with their supporters, gathered on Thursday near the joint BiH institutions' building in Sarajevo, to protest over the migrant crisis.
Mayor of Bihać, Šuhret Fazlić, said to the media that representatives of these cities in the Western part of BiH have been trying for months to force the BiH Ministry of Security and the Council of Ministers to start to work and do their jobs in accordance with the law.
"Unfortunately, we have not succeeded (accomplishing it) so far and this is the last attempt to attract attention to events in Krajina, Bihać and part of Velika Kladuša, linked with a large number of migrants", added Fazlić.
He believes that the Council of Ministers is not fully aware of the situation, how big the pressure is and how much the migrant crisis affects Bihać and Velika Kladuša, as well as the other parts of the Una-Sana Canton.
"We do not demand the relocation of migrants, we have accepted these people. We have been feeding them foreighth months, we have accommodated them and provided them with health care. The problem is the location where thousands of migrant live without the basic necessities, and the BiH Ministry of Security does not want to deal with it", added Fazlić.
He emphasised that they do not look forward to see migrants leaving Bihać and the wider area, where there are three to four thousand of them; he only wants to see things being done by the book. As he said, 40 to 50 migrants arrive daily in Bihać, and that makes life difficult for all (parties involved).
"We are asking the BiH Ministry of Security to do something about it in accordance with the Law on Asylum, to register these people, to set up a centre and manage it. We are not against the centre, which is supposed to be set up on the territory of Bihać, we already have had one. Migrants live on the street, they do not live in a proper place as they should", he added.
According to him, migrant families are in tents, some are staying at the student dorms, and some have also set up tents at the Partisan cemetery. Fazlić stated that they are more concerned about the approach to the solution of this problem, and added that it is evident that the BiH Security Minister, Dragan Mektic "takes more care of how he will neutralise the president of Republika Srpska, Milorad Dodik, than dealing with how to solve the (actual) problem."
After a meeting with Minister for Human Rights and Refugees of BiH, Semiha Borovac, it was announced that the issues with migrants in West BiH will be solved soon, the establishment of the immigrant centre has already begun and thatthe  Council of Ministers understands the importance of this question for municipalities and cities of the area, on the border with Croatia, where migrants want to go…. / IBNA