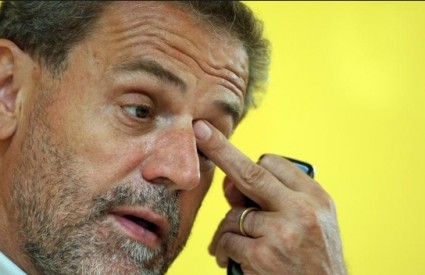 Banja Luka, March 10, 2015/ Independent Balkan News Agency
By Marija Avramovic
Mayor of Croatia's capitol Milan Bandic (photo) went back on Tuesday to detention in prison Remetinec, because the investigating judge of the Zagreb County Court accepted request from Bureau for Combating Corruption and Organized Crime (USKOK) for Bandic to be re-investigated.
USKOK has extended the investigation against Bandic on suspicion of incitement to perjury, forgery of official and/or business documents.
As the mayor of Zagreb violated the terms of the decision on the guarantee and broke promise to the Zagreb court earlier that he would not interfere with the criminal proceedings by influencing witnesses and not to repeat the offense, USKOK had passed a motion to the County Court for his custody and payment of bail in the amount of 15 million kuna (around 2 million euro) to the state budget.
Mayor Bandic and 18 more people were arrested in October last year as directed by USKOK, on suspicion of multiple offenses to the detriment of the city.
The indictment charged Bandic, among other things, for having accepted the request of the civil initiative "On behalf of the family" to help with collecting signatures for a referendum on election of parliament representatives, thus damaging city budget for 40 thousand euro.
In this story about corruption there are gray areas of petty politics like in so many cases in this peninsula, the most interesting aspect being that, although he still doesn't actually have 'the party', Bandic started to greet defectors from other city political organizations, so according to the announcement of his 'association of Milan Bandic', up until this weekend it gained 5 thousand potential party members,  mainly deserters from Social democratic party.
Certainly it is unclear how a person, accused of financial damaging Croatia's state in an amount which is not negligible, for such a short time managed to attract a fair number of voters and was soon removed from the public or in his case, from freedom.