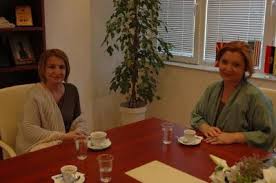 Tetovo, June 19, 2013
The mayor of Tetovo, Teuta Arifi received last night the Albanian vice Minister of Foreign Affairs, Edit Harxhi.
During the meeting, the two personalities talked about the perspectives of the countries of the region to be integrated in the EU and the need for a close regional cooperation in order to accelerate the integrating processes. The two personalities also stressed the fact that there's a need to strengthen local democracies as a pre condition for the functioning of democracy on a central level.
Mrs. Arifi and Mrs. Harxhi also talked about the possibilities to use IPA funds for inter border cooperation and the realization of joint infrastructure, cultural and economic projects between Tetovo and Albania. /ibna/