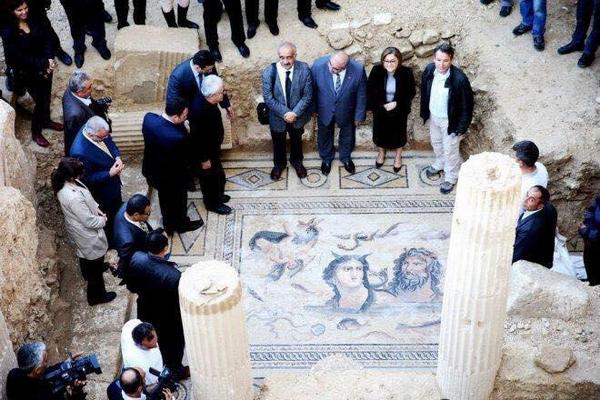 By Manolis Kostidis – Ankara
The mayor of the city of Gaziantep in Southeast Turkey Fatma Sahin, drew the strong reaction of the internet, when she and her entourage appeared, during her visit to the ancient city of Zeugma, to walk on the rare mosaics of the site which are considered to have a history of 2000 years!
Sahin was Minister of Family Affairs of the Erdogan government and was elected mayor in the elections last March, and now she saw fit to step on the mosaics wearing high-heeled shoes!
These rare mosaics, which came to light after excavations that lasted five years, have been moved from the ancient city where they were found, as much of the city was immersed in water due to the construction of the Birecik dam. The archeologists rescued what they could at the time.
In 2005 a special place was created in the city of Gaziantep, which gives a sense of the space where the mosaics had been found. During her visit, the mayor walked over these rare mosaics.
This Hellenistic city next to the Euphrates was built by Nicator I in 300 AD, who was one of the successors of Alexander the Great. Later, at the height of the Roman Empire, the region was named Zeugma, ie bridge. In the mosaics there are many themes from ancient mythology and Greek inscriptions, such as, "Wisdom", "Virtue", "Magnanimity".