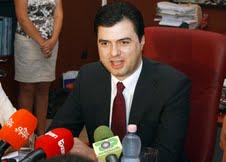 Tirana, June 3, 2013
The mayor of Tirana, Lulzim Basha delivered a press conference today where he expressed his regret about the accusations launched by the leader of the Socialist Party, Edi Rama on the Urban Planning.
Recalling Rama's model as mayor of Tirana, Basha said that the head of the opposition decided to leave the capital in these elections.
Basha said that during the two years of his being a mayor of Tirana, he managed to make transformation in Scanderbeg square, 40 streets, 4 urban blocks, nursing homes and schools, while stressing that the year to come will see projects which amount to 4 times more than in the past.
As far as the declarations about the Urban Planning are concerned, Basha said, "With his accusations, Rama shows that he wants to take us back in the past. This is a step back and his declaration is a clear proof of what he wants to do. I'd like to remind you that this plan was drafted with the participation of experts and this plan creates more jobs and development. I'm sure that the citizens of Tirana are co-authors of the Urban Plan and on June 23, they will have the chance to move forward and not go back". /ibna/