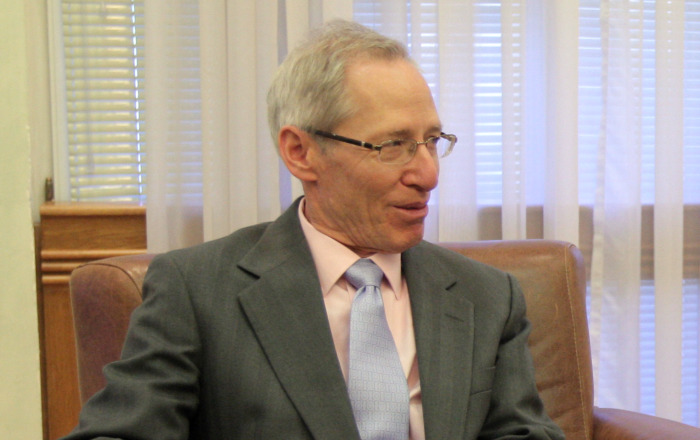 Belgrade, February 9, 2015/ Independent Balkan News Agency
By Milos Mitrovic
The priority in ongoing into a new round of talks between Belgrade and Pristina should be the implementation of what has been agreed in April 2013, U. S. Ambassador in Serbia Michael Kirby said today alluding to Brussels agreement on normalization of the relations.
According to Kirby, property issues that are among those to be resolved, including Trepca industrial complex, are not essential in current negotiations. When asked by journalists at the press conference in Serbian government what is more important in talks, Kirby answered: "Judiciary, establishing Serbian Municipalities Community, country code and insurance".
Ambassador said he is optimist with regard to negotiations which have started today (Monday) in Brussels. However, he added that "problem is always in small, tiny details".
Kirby stated that the central issue is whether Serbian Prime Minister Aleksandar Vucic and EU High Commissioner Federica Mogherini – who is moderator in negotiations – would reach "concrete and thriving" talks. "It's about establishing the relationship".
The dialogue between Belgrade and Pristina started in 2013 with moderation of Mogherini's predecessor Catherine Ashton.
The success of the process is the main precondition for Serbian accession to EU.
Aleksandar Vucic's meeting with U. S. vice-President Joe Biden in the margins of last week's Munich Security Conference represents the advance in bilateral relations, Kirby said.
Belgrade and Washington, he explained, have "mature relations", recalling alongside with Munich meeting last week's visit to U.S. by Foreign Minister Ivica Dacic.
In Munich Biden said that Vucic does a "brilliant job for Serbia", adding that that efforts done in order to stimulate the economy are the part of the job.
Kirby did not give any details regarding intentions of American Esmark Company to purchase ironworks in Smederevo, but he admitted that it is "complicated moment for steel industry due to decline in global consumption".
He also rendered whether "anyone" would be capable to make Smederevo ironworks profitable.
Kirby noted that Serbia has some odds to exploit natural gas. "Maybe our people would be interested to come as investors or to work with you on strategy for energetic stability which you still don't have", U. S. Ambassador concluded.