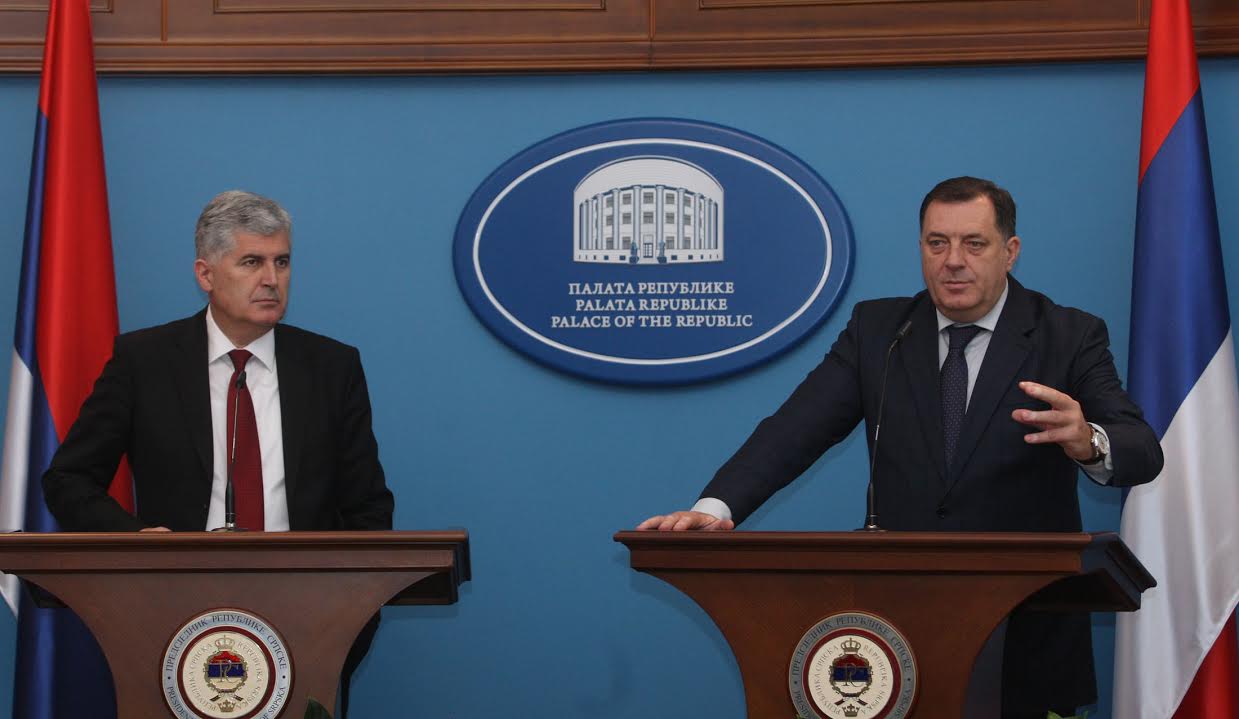 By Mladen Dragojlovic – Banja Luka
The Alliance of Independent Social Democrats (SNSD) will consider the possibility to be in opposition in BiH Parliament, despite the fact that in RS it leads the coalition which has the majority in National Assembly, said president of SNSD, Milorad Dodik, after meeting with president of Croatian democratic union (HDZ), Dragan Covic, in Banja Luka.
This means that SNSD accept the fact that parties gathered in Alliance for Changes (Serb democratic party-SDS, Party of democratic progress-PDP and Peoples democratic movement-NDP), which are in opposition in RS national Assembly, with other parties from BiH Federation, will have a majority on state level. This situation is not something new on BiH political scene, but earlier it created big problems in state functionality.
After meeting with Covic, Dodik said to the media that SNSD is the legitimate representative of Serb citizens and RS on state level but that party leadership is close to deciding not to be a part of the majority on state level.
"We are not interested for Bakir Izetbegovic, deputy of president of Party of democratic action (SDA) as somebody who offer us the charity", said Dodik.
He added that, if SNSD goes in opposition, their responsibility for the future of BiH will be smaller than the responsibility of parties which make up the majority. Dodik said that, for sure, SNSD will not applaud to majority represented by SDA and Democratic Front (DF), from BiH Federation, and SDA, PDP and NDP, from RS. He also added that SNSD and HDZ BiH will be partners on both entities level.
Dodik said that his wish is to establish BiH institutions as soon as possible, in order to continue the way to the EU.
"If SDA, DF, SDS, PDP and NDP establish those institutions, as a majority which is mathematically possible, it will cause political confrontations on many issues. Insisting on "mathematical majority" can cause problems", said Dodik and added that, thanks to Izetbegovic, parties from Alliance for changes are still "politically alive".
Dragan Covic, HDZ leader, told the media on a press conference in Banja Luka that his party, in any case, will be part of the ruling coalition. But, he said, it is best for state institutions establishment that parties with biggest legitimacy represent nations in BiH Parliament.
"We (HDZ) want to be legalists. In the case that the establishment of institutions goes a different way, soon enough BiH will be in crisis again", said Covic.
He expects that this situation would be solved on the first session of BiH Parliament, which will be held in the next ten days.