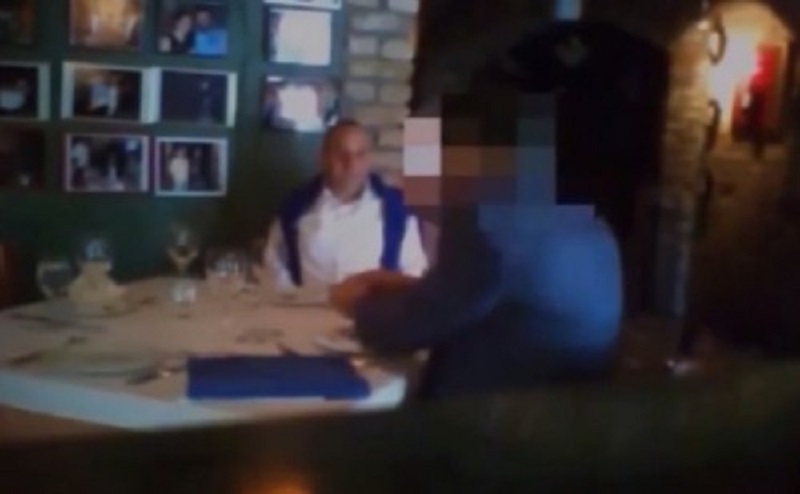 IBNA Special Report
Skopje, February 23, 2015/Independent Balkan News Agency
By Naser Pajaziti
The so called 'Eavesdropping scandal' in FYR Macedonia continued today with the publication of video footage and in one of them is seen the head of the United Macedonia Party, Lube Boskovski, talking to an anonymous Greek personality. During their conversation, this politician says that he will enable the name change of the country if he comes in power.
The video materials were made public by pro government media, while they follow the other materials that the opposition made public and which contained a registration between the head of secret services, Saso Mijalkov with the editor in chief of a pro government media on Boskovski's arrest.
These materials are being publicated at a time when Boskovski is suffering a five year prison sentence on the count of unlawful funding of the election campaign of his party.
In the video footage published today, Boskovski is seen accepting money from an anonymous person with a Greek accent, whom Boskovski guarantees that if he comes in power, he will enable the name change.
According to opposition media, this is an orchestrated process of the current government and the anonymous person may have been used as a protected witness against Boskovski in the process "Campaign", where Boskovski was sentenced to five years in prison.
Macedonian opposition reacted by saying that instead of explaining the massive eavesdrops, the government is manipulating video footage by misusing "Youtube".
"The scenarios of this government show it's scared. The government is trying to manipulate materials through protected witnesses. Our leader, Lube Boskovski has never intended to sell the name of our country. If he had such intentions, he would do this in 2001, when he defended the country", says United Macedonia Party.
Pro government media have distributed videos today entitled "Boskovski sold the name of his country for money".
Public Prosecution and Interior Ministry have not issued any declaration on the video footage that was published through different pro government TV stations in FYROM. /ibna/