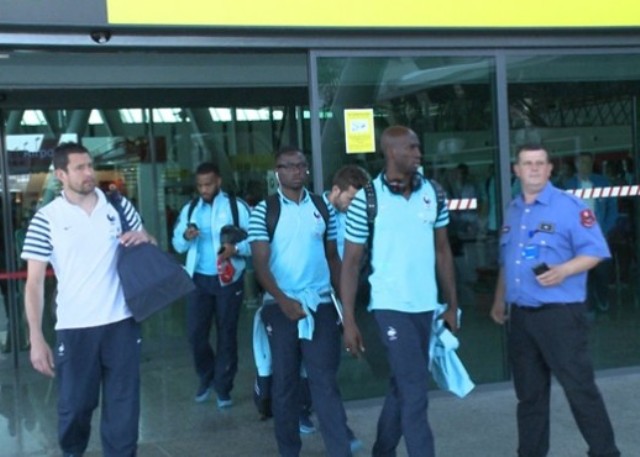 Tirana, 12 June 2015/Independent Balkan News Agency
France national football side has arrived in Tirana and has been received by many fans. They will prepare for the friendly match which will be played in the afternoon of June 13 in "Elbasan Arena", in the city 36 km away from Tirana.
In the morning hours, the French stars appeared at the exit gate of Rinas Airport, where they avoided press declarations, while they only saluted and signed several autographs asked by fans who took the opportunity to meet with them, especially with Paul Pogba, Patrice Evra and Didier Deschamps.
The French coach has responded to journalists' questions, promising that he will deliver a news conference ahead of the match.
France has constantly trained for the match against Albania in its training center of Clairefontaine.
The coach Didier Deschamps has increased the physical training of the team along with tactical and ball exercises, playing even a short match with the players he had available.
Maxim Gonalons is expected to be one of the top players who will play against Albania. Lyon's midfielder said, when asked about Saturday's match in "Elbasan Arena" that France will do its best to win and to play well, following a disappointing appearance against Belgium. "We didn't play well against Belgium and against Albania, we must show all of our strength to improve our image following the defeat in Saint Denis. The coach wants the team to reach and we believe that we will respond to his call", said Maxime Gonalons.
Meanwhile, on the red and black camp in Durres, the Albanian national team continues to prepare for the game against France. Italian coach, who has now an Albanian citizenship, De Biasi, has held tactical preparations.
Saturday's challenge will be the fifth between Albania and France. The one time world champions have won four out of five previous matches. /ibna/