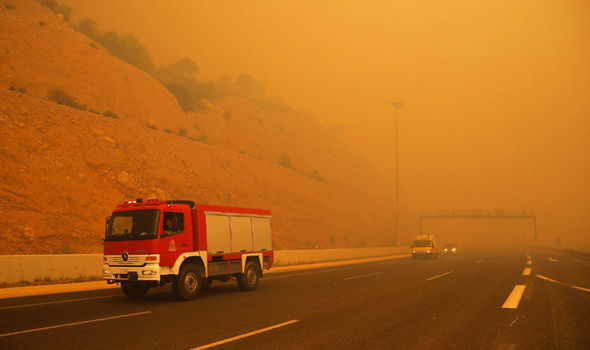 Due to the very strong winds blowing in the area and in numerous other places of the prefecture of Attica -even in the city centre of Athens- a fire that broke out in Kineta, a sea-side resort not far from Athens, earlier this afternoon is still ongoing, with the Alternate Minister of Public Order and Citizen Protection, Nikos Toskas saying that we might be talking of an arson.
For the moment, police and firefighters are not treating the fire as such, however, according to the minister, there is this possibility.
There is no information for victims so far, but several cars, houses and at least one hotel have been are burnt away, while all locals and tourists have been asked to evacuate the place.
The fire is getting bigger, moving towards Elefsina, in the outskirts of Athens and is uncontrollable right now, due to the gusty winds.
Traffic has been halted in both directions of the old and new national road that connects Athens to Corinth and vice versa between the 39th and 57th km, however, there are no trapped drivers inside their cars.
Over 110 firefighters are on the spot in an effort to control the flames. Meanwhile, the Greek Defence ministry is contributing to the fire brigade's effort during the wildfire with ground military vehicles, five airplanes and two helicopters and also a transport plane that will transfer more firefighters to Kineta.
The fire in Penteli
Another ongoing fire which is also out of control is raging in Penteli, Neos Voutzas, Kallitechnoupoli and in Daou Pentelis near the well – known monastery of the area.
Local authorities are about to evacuate the local local children's camps and possibly residents will need to flee their homes due to the wild expansion of the fire
There are no reports for human beings or animals in danger for the moment.
Greek media reporting from the spot are saying the fire is raging totally uncontrolled and the intensity of the winds blowing in the area are not helping firefighters at all as the actual direction of the flames is constantly changing…. / IBNA