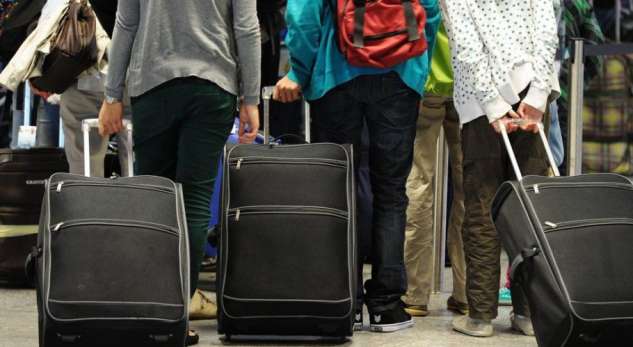 IBNA Special Report
Pristina, February 3, 2015/Independent Balkan News Agency
By Elton Tota
Many families, young people, students have started to leave Kosovo in order to reach EU countries. These massive departures are taking place from all the cities of Kosovo.
Citizens blame the government for this and say that the cause for their departure relates to economic causes.
"Four of my family members have left. I just sent my niece. Isa Mustafa and Hashim Thaci must deal with people leaving the country and not Jablanovic", says Sh.M, aged 40, who was accompanying his niece to the bus station in Pristina.
Experts of political developments say that this massive exodus shows that citizens of Kosovo are hopeless that the situation may improve in the country.
Analyst Vilhard Shala told IBNA that the lack of perspective and corruption amid politicians is obliging Kosovars to abandon the country for a new life in the countries of the west.
"Now, Kosovars have only two alternatives: to take on the streets in order to protest or get on buses to leave the country, with the hope of being granted asylum in EU countries. If these departures continue, Kosovo may become an uninhabited country within a short period of time. This departure is painful and sad", says he.
"I call upon Kosovar families to be patient and not become victims of traffickers, because no EU member country will grant them asylum", says he.
Meanwhile, experts of sociology, Elmi Amdi, told IBNA that the massive exodus is taking place due to the fact that citizens have lost all hope and confidence on the politicians of Kosovo.
"They do not have any hopes that things will get better. For two decades in a row, they have been fed up with empty promises for economic development, integration in Euro Atlantic structures and a number of other lies, which were never accomplished", says he.
He invites the political class in Kosovo to reflect and work in order to convince the citizens that better days will come and that illegal migration will only complicate their life.
According to the latest statistics, the number of Kosovar citizens who have left the country is over 24 thousand and the numbers continue to grow.
The new Prime Minister of the country, Isa Mustafa says that everyone who has left Kosovo, will come back.
According to him, the government is working night and day to stop these negative phenomena which are emptying villages and cities in Kosovo.
"We're working in all the sectors of economy in order to provide hope for the opening of new jobs, to attract investments, to encourage small and medium sized enterprises which will offer better conditions for employment. Structural reforms will also take place in the domain of education and the domain of health in order to create more jobs and also for people to employ themselves", says Mustafa.
The PM says that the problems of the citizens are not resolved in bus stations. He has appealed to everyone in order to convince their relatives not to leave Kosovo.
"Problems are not solved in bus stations, they are solved in our homes, in our economy, in our enterprises before it's too late. We call on everyone to discourage their relatives from leaving Kosovo, because they will come back here. It's better for them to remain in Kosovo rather than go in the countries where they go", said Mustafa. /ibna/