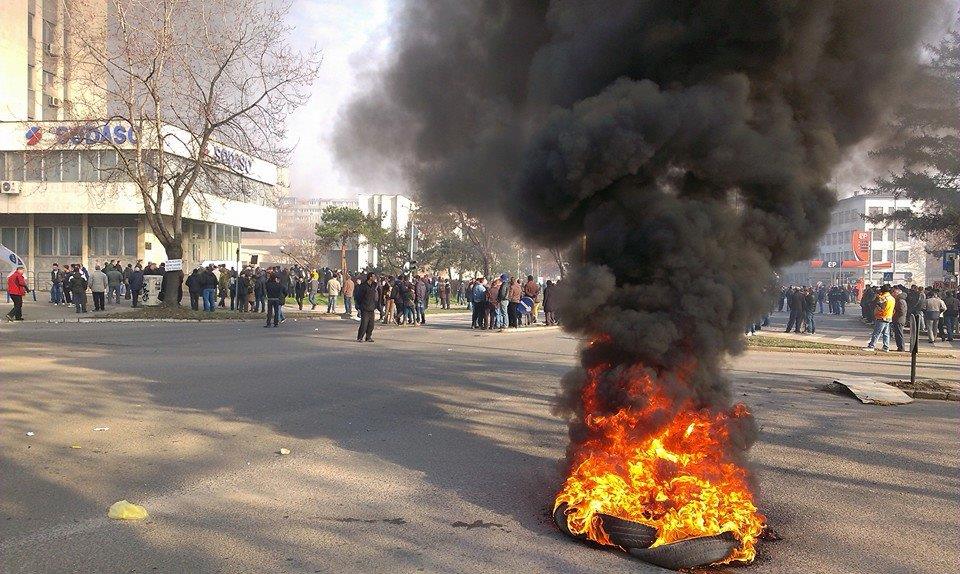 By Medina Malagic – Sarajevo
A protest began in Tuzla today in front of the Cantonal Court and the Cantonal Prosecutor's Office of Tuzla Canton organized under the Facebook group ''50.000 people on the street for a better tomorrow'', which was followed by an attempt to storm the government of the Tuzla Canton.
This morning, about 300 protestors gathered in front of the Cantonal Court and marched towards the Tuzla Canton government. They shouted 'thieves, thieves', referring to the privatization of many companies, as well as many other long-standing problems. The protest quickly grew larger, as several hundred more citizens joined them on their march. It became immediately visible that this was the most massive protest in the past several years.
As the protestors drew towards the government building with the intention of entering it, they encountered special police units, and the situation escalated with shoving and with several people injured. They managed to enter the cantonal government, after the Prime Minister of Tuzla Canton refused to hold a meeting with them. Several clashes with police took place, and afterwards, the protestors decided to block the northern part of the city and put traffic flow to a halt.
The protestors included mostly disenfranchised workers from several Tuzla companies (Dita, Polihem, Guming and Konjuh), the unemployed, young people, and members of veterans' organizations and many others who ended up joining the initial protestors. Thus, this was a protest in which people with advanced degrees unable to find jobs and employees of several Tuzla companies were protesting together, side by side.
The cause of the mass protest today in Tuzla is the frustration of citizens with their government. They asserted that in the four years of the mandate of this government, they managed to break a record in unemployment rates, and now that number is as high as 100.000 unemployed citizens.
Currently, there are more than one hundred members of the special police units in front of the government building securing the premises.
The situation started to escalate when protestors began throwing rocks at the government building and smashed windows, started fires in garbage containers and tires.
The government of Tuzla Canton responded with an official statement: ''Aware of the problems faced by employees of the companies Dita, Konjuh, Polihem and Poliolchem, the Tuzla Canton government said that it is ready for dialogue, but recalls that the solving of long-standing problems should be done in the framework of the Economic-Social Council, in which union representatives, employers and the Tuzla Canton government equally participate''.
Based on unconfirmed sources, there are around 2.000 protestors that gathered today in Tuzla, as well as confirmed reports of several people injured, including a policeman and a journalist. Nearly all the streets in Tuzla have been closed off with no traffic flow.