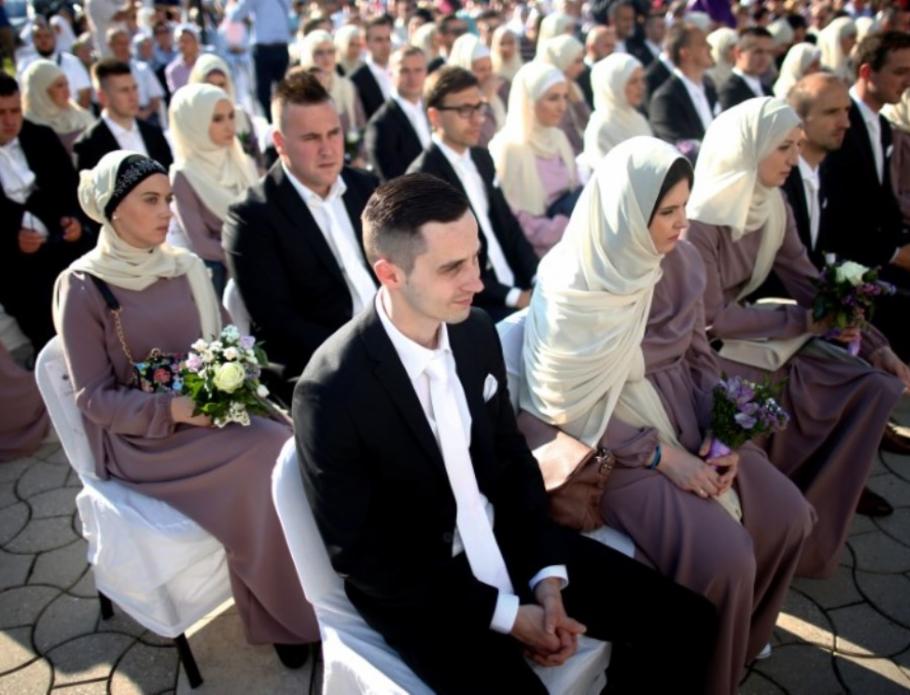 The incentive was pure blast: The plan behind a mass marriage in Bosnia last week was o make it easier for young people to start families. And the Bosnian Muslim couples who wanted so, got married in a religious wedding ceremony in the capital Sarajevo, in what organisers said was one of the biggest Islamic mass weddings in Europe
Sixty Bosnian Muslim couples were encouraged to get married this way in order to avoid the high costs of the ceremony if they went to do it each on their own, said Imam Resul Alic who led the service at the Istiklal (Independence) Mosque, Sarajevo.
The Imam said "Matrimony is the basis of humankind and any society. Our society and family in particular are nowadays facing a number of challenges and fewer people are getting married", as quoted by Reuters.
The Islamic Community of Bosnia-Herzegovina organised the mass event providing suits and dresses for the newlyweds in accordance with Muslim dress codes, while each couple received 500 Bosnian marks ($313) as a wedding present. The special ceremony was supported also by a local nongovernmental organisation, MFS-EMMAUS, and its sponsors in the United Arab Emirates, RFE/RL's Balkan Service reported.
Based on the Bosnian Law only civil weddings are recognised; thus the couples in question were already officially married in civil ceremonies prior to the Islamic one.
Reuters reads that "With the economy still recovering from the 1992-95 war and unemployment in double-digits, marriage and birth rates have been steadily falling in the Balkan country, which has a population of just over 3.5 million, about half of them Muslim.
From a peak of nearly 24,000 marriages registered in 2007, the number of fell to just 14,870 last year."… /
IBNA
Main Photo: The mass religious wedding of the sixty Bosnian Muslim couples outside the Istiklal mosque, Sarajevo, Bosnia, July 2018