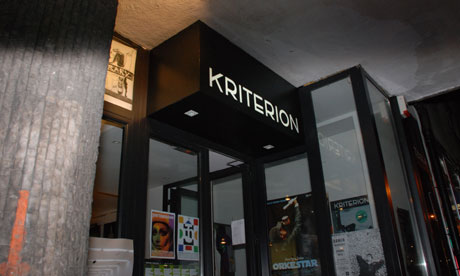 By Medina Malagić – Sarajevo
On Saturday afternoon at around 15:00 in Art Kino Kriterion, where the second LGBT Festival 'Merlinka' was being held, at least seven masked individuals entered and began verbally and physically harassing participants of the festival.
''Due to the attacks in Kriterion, which occurred during the discussion as part of FetivalMerlinka, all screenings that were scheduled for today have been cancelled. Two people suffered slight injuries'', said in a short statement by the Sarajevo Open Center on Saturday, which is the organizer of this festival.
Based on witness accounts, around 10-15 men wearing hoods entered Kriterion around the same time that the discussion 'transsexuality in transition' began.
Yesterday in Art Kino Kriterion, the program went as scheduled, starting at 16:00, and included heavy police presence. Organizers of the 'Merlinka' festival provided a brief summary of what had occurred the previous day, and said that the police was notified of the festival 10 days before the event, and requested police presence during the three days of its duration (Friday-Sunday).
However, on Saturday police officers did not arrive, despite several phone calls made by the organizers throughout the day to request the presence of police officers again. Organizers said that they were told that no one in the police department was informed and did not know that they had wanted police officers present in Kriterion on Saturday as well.
On Saturday, Police officers arrived on the scene at 15:20. By that time, the perpetrators had already injured several people and escaped the premises.
The question that organizers and participants of the festival want to know is why the police had not come to Kriterion to secure the area when they were notified of the festival 10 days before it began, and why it took them so long to arrive at the scene, when several calls were made before the attacks took place.
We recall that in 2008 the first Queer Festival began in Sarajevo but was quickly shut down after an attack, and organizers were forced to close the festival due to continued death threats and verbal abuse directed at the LGTB community.
Despite the attacks on Saturday that left several people injured, many people showed up yesterday in Kriterion to publicly show their support, calling for an end to discrimination and intolerance, and renouncing violence. Despite the rampant homophobia and discrimination against the LGBT community in B&H, with most politicians remaining silent about the events that took place on Saturday, the continuation of the festival and the massive amount of people who showed up in Kriterion yesterday shows that strides have been made in increasing the visibility of this marginalized community in B&H.