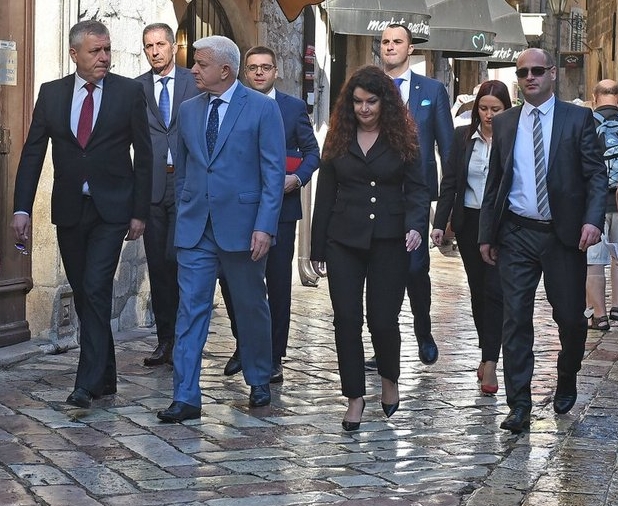 Prime Minister Duško Marković visited the city of Kotor and held a meeting with the municipal leadership, headed by Mayor Željko Aprcović and Speaker of the Municipal Assembly Jovo Suđić, for talks on development and infrastructure projects worth more than EUR 50 million and how this municipality has missed in the past two and a half years the benefit from the successful economic policy of the government.
"Today, in Kotor, I am not only visiting projects and investments that are being implemented, but I am also paying a working visit to the Municipality. We had a very meaningful and constructive meeting. After a long time, unfortunately, the Prime Minister was able to discuss with the local leadership the development issues of Kotor municipality, the challenges that are in the way, because in almost three years I have not had the opportunity, regardless of my insistence, to speak with the previous leadership about these important issues. Unfortunately, it also cost the municipality of Kotor and Montenegro and its economy as a whole", Prime Minister Marković told the press at the end of the visit.
The Prime Minister noted that all important topics concerning this municipality were discussed at the meeting.
"We have opened all the important issues regarding Kotor and its development and agreed on how to give the fastest and highest quality answers to them and to yield results quickly. As such, we talked about the problems regarding the completion of the sports hall in Kotor and the Kotor swimming pool. Unfortunately, we have problems with contractors on these projects. Therefore, we have made a clear commitment today: either they will fulfil their obligations or we will look for other contractors. In any case, we will finish these two capital social infrastructure facilities.
We discussed the challenges when it comes to the adoption of the Kotor Spatial Plan, a new spatial plan in relation to the Proposal that had been the subject of the public debate, the positions of UNESCO and the leadership of the Municipality of Kotor. We also discussed future development plans. We talked about a prospective project, that is, a good offer for the construction of a cable car from Kotor to Njeguši, which is an investment of paramount importance for Kotor, for Cetinje, for Lovćen National Park, for the Montenegrin tourism in general.
Asked if any other local issues, such as the construction of a bypass around the city, were discussed at the meeting, PM Marković said that this was not the case because it is a complex issue that must be addressed in dialogue with UNESCO.
"We do not want Kotor to lose its position in UNESCO. Kotor is a great Montenegrin value in cultural, and of course not only in cultural but also in identity terms. But it has special value as an UNESCO-protected area as well. Unfortunately, in the previous period we have not been careful in communicating with UNESCO; there are some misunderstandings regarding the development potential of Kotor. We now want to eliminate these misunderstandings and identify together with UNESCO what development interests are, what the needs of this area of Kotor Municipality as a whole are and find the most acceptable solutions", the Prime Minister stated./ibna