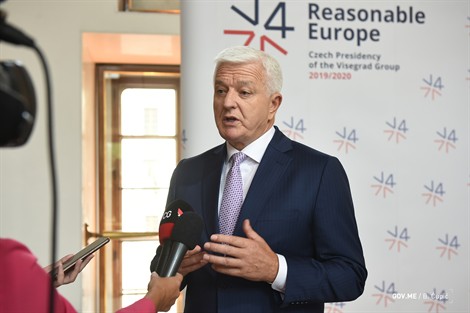 Montenegro Prime Minister Duško Marković said on Thursday that the Summit of the Prime Ministers of the Visegrad Group and the Western Balkans, which earlier that day took place in Prague, was successful, that the main topic was the EU enlargement policy, and that the Czech Republic, Hungary, Poland and Slovakia fully support the enlargement policy of the European Union and will advocate it in the European Commission.
"We had an excellent meeting. The dialogue is part of the initiative of the Visegrad Group and the Czech Presidency regarding the dialogue with the Western Balkans, which primarily concerns enlargement policy but also other issues such as energy, infrastructure, climate change and migration. The most important conclusion of today's meeting, which also resulted in the agreement on a joint statement, which underlines that enlargement policy should be a strategic policy of the European Union, which needs to be unquestionable and credible, and that the Visegrad Four would, with all their political potential, will advocate such a policy at the level of the European Commission", PM Marković told the press following the meeting.
He noted that Montenegro was encouraged by the appointment of the new European Commission and the proposal that the Enlargement Commissioner should be from Hungary, because Montenegro has developed bilateral relations with Hungary and because that country supported Montenegro's process of NATO integration and also supports its EU bid.
"Our dialogue was very meaningful, very concrete, it included both opportunities and challenges. The most important thing is that we believe that the enlargement policy will be alive and credible and that we, the candidate countries, need to work hard and deliver the result in order to strengthen their argumentation and their approach", the Prime Minister of Montenegro said.
The Visegrad Four adopted a joint statement on the Western Balkans, in which they "reiterated their unequivocal support for the EU accession of the Western Balkans and their firm belief that reunification of Europe cannot be complete without them joining the European Union", "underlined that the EU enlargement policy provides an invaluable tool for achieving security, stability, and prosperity in the Western Balkans; consequently, a credible enlargement policy represents a strategic investment in the security, stability and prosperity of the EU as well" and "stressed that accession is and will remain a merit-based process fully dependent on the objective progress achieved".
In its joint statement, the Visegrad Group countries also "expressed their expectation, in line with the Commission's February 2018 Western Balkans Strategy, that ongoing accession negotiations with Serbia and Montenegro will be accelerated during the next Commission's mandate accordingly to both states' progress and that the reform processes in Bosnia and Herzegovina and Kosovo in the coming period will strengthen the prospect of EU membership in the region" and "underlined the determination of the Visegrad countries to continue supporting extensive regional cooperation, good neighbourly relations, and reconciliation in the Western Balkans also through the International Visegrad Fund's grants (Visegrad+ Grants), scholarship programmes or assistance to the Western Balkans Fund"./ibna