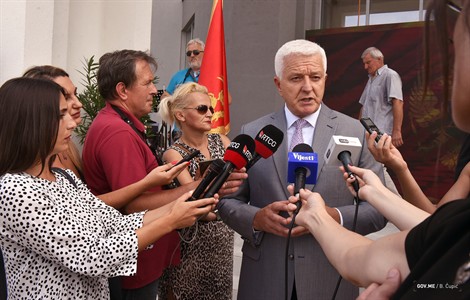 Montenegro Prime Minister Duško Marković said on Friday that on Sinjajevina, where the military – shooting range of the Armed Forces of Montenegro construction is planned, there is no and there will be no threat for the environment. He stressed that such allegations are political machinations because the reason for the pressure is not ecology but political and that there can be no polemic discussion on security and national state interest.
"I cannot wait (proceedings on criminal charges for polygon on Sinjajevina) for court proceedings where we will unmask the machinations of those who challenge this decision of the Government. The military shooting range on the mountain Sinjajevina is defined by a strategic document of the Government and the country. The spatial plan says that strategic documents and legislative documents for defence apply when it comes to military facilities. Therefore, the long-term defence development from 2015 to 2025 chose this space for the military training activities of the Armed Forces of Montenegro", Marković said.
He explained that the Law on Defence stipulates that all the other documents subordinate to the interests of defence. So, he stressed, when it comes to national security and defence there can be no polemics.
"The Government cannot bring into question the development of the Armed Forces as a key segment of defence of state security and its citizens and it will work regardless of the pressures that are not essential and environmental but political and destructive. It is a kind of a hybrid activity on the Government and its institutions and legal and constitutional order in the country. The Government must protect it", Marković said.
The Prime Minister noted that the Armed Forces of Montenegro do not threaten but preserve the environment and that is the case in Montenegro and other countries.
"There we do not jeopardize the environment, but we protect the environment. Find examples in Montenegro, in the environment and in Europe where the army was in an area that has been devastated. This space is preserved. In Montenegro, we have such examples. The Valdanos was a property that was under army protection. Where was the devastation in that area? There was no devastation. Therefore, I urge those who want to set their tents in Sinjajevina to set them on Valdanos and to protect it of usurpation, criminal usurpation of its neighbours and their friends and political comrades", the Prime Minister said.
The Prime Minister concluded that in the case of Sinjajevina there is no attack on the environment, nor environmental risk, but it comes down to the interest of defence./ibna