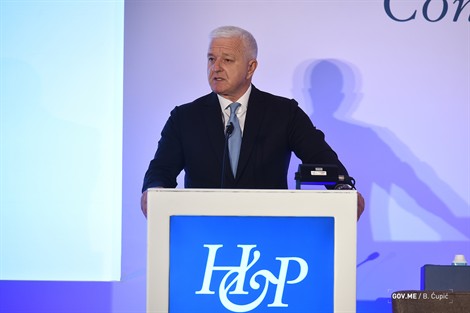 Prime Minister of Montenegro Dusko Marković presented today at the XIII Global Citizenship Conference held in London the Government's achievements and economic and political priorities, stating that Montenegro has made major strides in its overall socio-economic development since the restoration of independence in 2006. The country, he said, has strengthened its position as the most economically developed country in the Western Balkans and the position of a fully secure country based primarily on a unique multi-confessional and multi-ethnic harmony. He added that Montenegro has no open issues with its neighbours, that its foreign policy is in line with the EU's foreign and security policy and that Montenegro is certainly the next member of the European Union.
As part of the presentation to foreign investments, the Montenegrin Prime Minister said that a remarkable growth was recorded after joining NATO.
"When it comes to the economy of Montenegro, it has seen high growth rates over the last three years: 4.9% in 2017, 5.1% in 2018, and 3% in the second quarter of 2019. Since joining NATO, we have seen an increase in investment from Alliance member countries by 64%. The total FDI inflow in these three years is over one and a half billion euros. We also recorded 30,000 job openings, or an 8% reduction in the unemployment rate. Currently, investments in excess of three billion euros are underway," Marković said, addressing hundreds of conference participants from around the world.
Speaking about tourism, which is continuously breaking records of the number of tourist arrivals, by number of overnight stays and revenue, Marković presented the latest data.
"As an illustration, here's the latest data I got this morning: In the first nine months of this year, we had 360,000 tourists, or 1.35 million nights more than the same period last year. That's an 11% increase. We will end this year with more than 2.5 million tourists who have visited our country – that is four tourists per capita", said the Prime Minister of Montenegro.
Prime Minister Marković pointed out the huge investments in the Northern region of the country, the fact that the state invests more than 800 million euros in the Highway, and that a strategic partner for airports is to be chosen in future.
All these are benefits for investors, who can expect a development program through which a maximum of 2,000 investors in the next three years can acquire the Montenegrin citizenship by investing in one of the development projects.
"The application costs EUR 100,000 and entails a minimum investment of EUR 450,000 in the Littoral or in the capital Podgorica, and EUR 250,000 in the less developed but resource-rich Northern Region. The process involves reputable international agents (such as H&P) for mediation, as well as security and other screening of applicants. Four major investment projects were approved, three of which were in the north of Montenegro. We expect more project applications in the next few months, as interest is high. The entire process is led exclusively by the Government, which guarantees transparency, legality and security of investment according to this model", Marković concluded./ibna