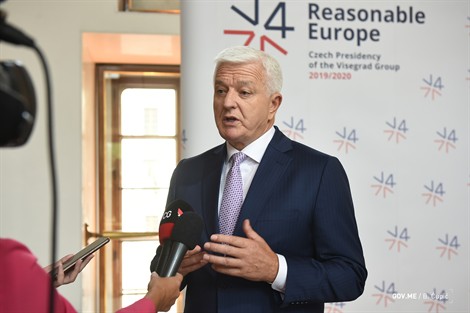 The prospect of EU membership, in accordance with own merits, remains the main driver of reforms in the Western Balkans region, Prime Minister Duško Marković stated at a joint reception of the Visegrad Group (V4) ambassadors in Podgorica.
"I want to emphasise our commitment to continue to work with the same enthusiasm and to fulfil responsibly all obligations from the European agenda, at the same time expecting that our results will be timey recognised and acknowledged. It is essentially important that each country continues its European course at a pace that will solely depend of reforms and merits", said the Prime Minister.
Prime Minister Marković pointed out the excellent bilateral cooperation with all Visegrad Group countries, adding that relations between Montenegro and Hungary, Poland, Slovakia and Czech Republic are based on a strong foundation of friendship, openness and mutual support at the regional and international level and expert and other assistance when it comes to reforms and integration.
The Prime Minister stressed that Montenegro is encouraged by the choice of the new European Commission, in which the V4 countries are playing an important role, and pleased with the fact that the Commissioner for Enlargement is from Hungary.
Prime Minister Marković expressed special thanks for the development of the project cooperation trough the Western Balkan Fund, adding that through this mechanism the way will be paved for new initiatives in the areas of culture, science, youth exchange and strengthened the sustainable development.
"Today, Montenegro is a credible ally with you in North Atlantic Alliance, firmly moving towards the EU and recorded economic growth at the national level that exceeded all forecasts. We will not stop there, but we strive for further development that will bring continuity of the European quality of life for present and future generations," the Prime Minister stated.
As it was announced from Montenegrin government, he emphasised the significance of good neighbourly relations and regional cooperation, but also added that full integration of the Western Balkan into the EU is the ultimate aim.
Czech ambassador Karel Urban stressed that the support for the Western Balkan countries and their European integration is a long – term foreign policy priority of the VG. He added that Montenegro, as a leading country among the Western Balkan countries on their path towards the EU, has undertaken not an easy but a very significant role, becoming an example and motivation for the surrounding countries.
"On behalf of the Visegrad Group, let me express our full support to Montenegro, its efforts and orientation", ambassador Urban stated./ibna