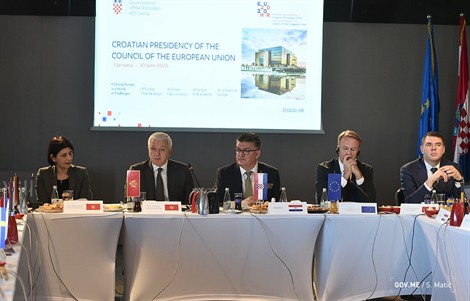 Montenegro's PM, Duško Marković, said today that the Government remain open to inclusive dialogue and support for all religious communities regarding the implementation of the law.
"We are willing to hold talks with the Metropolitanate of Montenegro and the Littoral about the conditions for the conclusion of the conceptual agreement", Marković said during the presentation of the program of the Croatian presidency of the EU Council.
He added that very comprehensive and detailed consultations with all religious communities and other relevant subjects in Montenegro had been held during the proccess of the drafting of the Law on Freedom of Religion or Religious Beliefs until its adoption.
"After we accepted all proposals made by religious communities, we requested the opinion of the Venice Commission. The Commission's recommendations were included in the text of the law", Marković pointed out.
He said that Montenegro understood the situation in the EU, but stressed that the country is already negotiating under the most stringent criteria that the EU had ever had.
"Montenegro is not in the same position as other states in the region, and therefore, I believe that changes in the process shouldn't be applied retroactively. We remain open to cooperation", Marković stressed.
Prime Minister said that Montenegro is committed to fulfilling the requirements in the integration process.
"We expect an intensification of the activities aimed at the opening of Chapter 8 and the closing of the chapters that have been already opened. This year, the Government will be focused on strengthening institutions, maintaining dynamic economic development, reducing unemployment and stabilizing public finances", Marković concluded./ibna