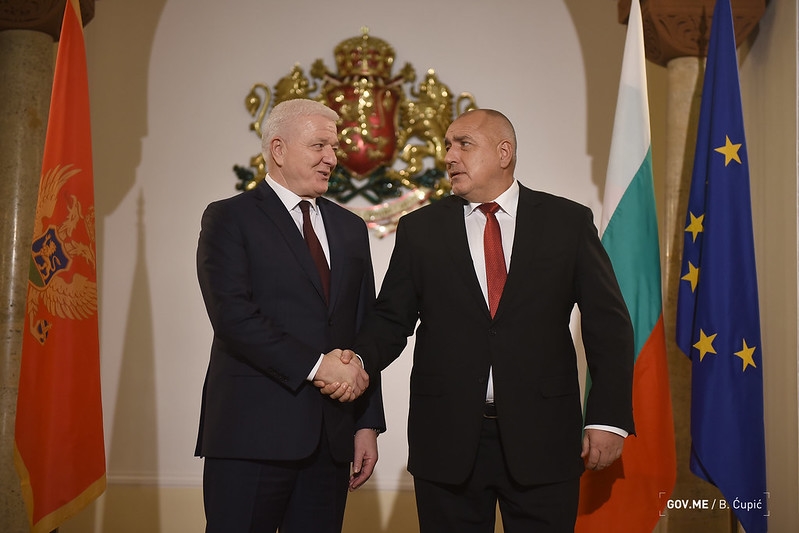 "Montenegro and the Republic of Bulgaria agree that the European integration of the Western Balkans is crucial for the further perspective of its faster economic and democratic development. We are encouraged that the new Brussels administration has given a long-awaited momentum to enlargement policy, pointing out that the Western Balkans is a strategic interest of the European Union", Montenegrin Prime Minister Duško Marković said in Sofia during an official visit to Bulgaria.
Speaking at a joint press conference with the host, Prime Minister Boyko Borissov, Marković expressed his gratitude to the Government of Bulgaria and the Prime Minister personally for their selfless support for Montenegro's European ambitions.
"I would also like to take this opportunity to express my great gratitude to the Bulgarian Government, the Bulgarian people and especially PM Borissov for their overall support to Montenegro in realising its key foreign and national interests – above all our integration into NATO and, of course, the European Union. Bulgaria and PM Borissov stood by Montenegro, supporting us, sharing their experiences and believing in our potential, when that was not easy", Marković said. He emphasised Bulgaria's key support for Montenegro during Bulgaria's EU presidency when, thanks to Prime Minister Borissov's commitment, the Adriatic-Ionian route was included on the list of European corridors.
Speaking about the European integration process, Marković said that he had informed his host of expectations to open the only remaining chapter in the coming period – Competition; and to begin closing the set of chapters for which Montenegro has already achieved internal readiness. Marković indicated that he has initiated a dialogue with relevant political and social actors in the country on all issues of interest to European path.
Prime Minister Boyko Borissov expressed his full support for Montenegro's European integration and mentioned protests against the Law on Freedom of Religion or Belief and the Legal Status of Religious Communities: "We condemn all the incidents and the vandalism that result from religious processions in Montenegro. We support your country as an ally and a friend", the Bulgarian Prime Minister said.
Referring to the situation in the region, Prime Minister Borissov condemned the views of member of the Presidency of Bosnia and Herzegovina Milorad Dodik against the official visit of President of Montenegro Milo Đukanović to the country.
"I cannot understand what we are doing to ourselves", Borissov said, adding that "anti-European behaviour is taking place in our region. … You cannot speak honestly about Europe and European unity without allowing the President of Montenegro to enter the country", Borissov stressed, adding that such rhetoric and behaviour are unacceptable./ibna